Today's Edition Includes:
Rogue Pet Science joins Astro Loyalty!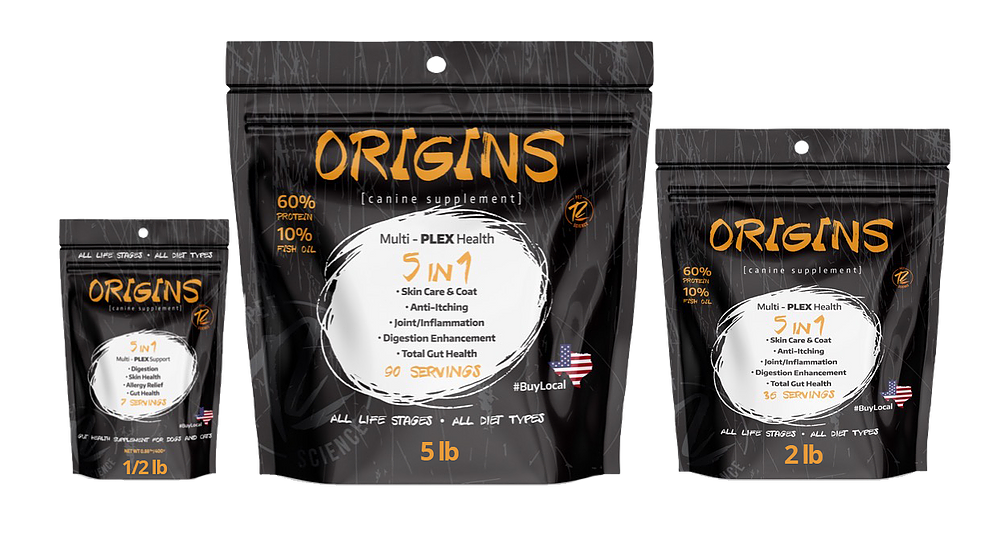 Rogue Pet Science has launched a NEW Buy 5 Get 1 Free Frequent Buyer Program for their high-quality pet supplements! Astro Retailers in the USA are invited to enroll today. (Enrollments are pending until they can be approved by a member of Rogue Pet Science.)
Rogue Pet Science is an all-natural pet products company focused on natural dog supplements and vitamins to improve your dog's overall nutrition and gut health.
Rogue Pet Science has an extensive blog dedicated to amassing amazing articles on pet nutrition and health. There's even a section that focuses on Gut Health, which we all know is the foundation of our pets' overall well-being.
Rogue Pet Science goes beyond just Canine Health. They also offer several supplements for our hooved companions like horses, sheep, and goats! These supplements are also included in their Astro Frequent Buyer Program.
Valentine's Day Marketing Materials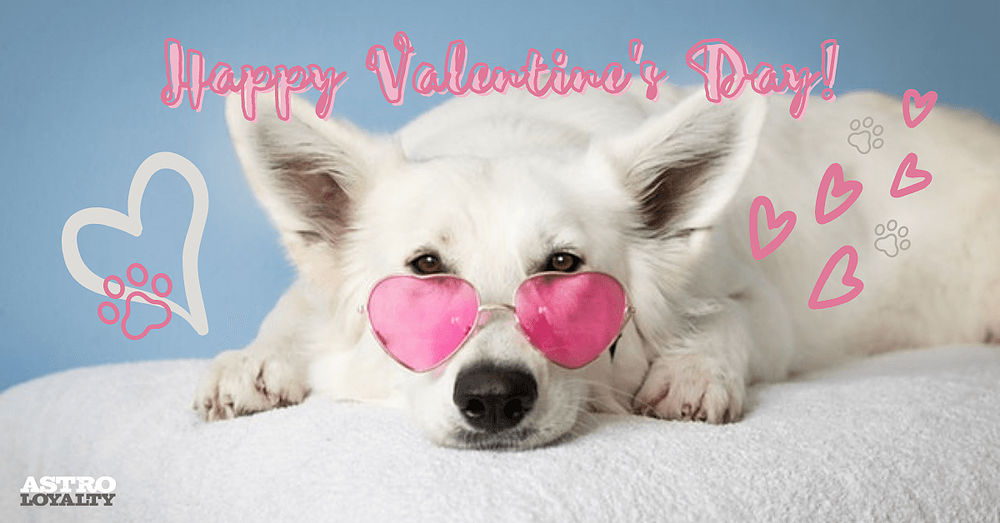 Valentine's Day is almost upon us! We have enjoyed the social campaigns that we have seen thus far by our Astro Neighborhood Retailers. There are so many cute bakery cookies!
Every year that Valentine's Day rolls around I am so grateful for my dog and cats. Valentine's Day has become a day to spoil the pets whom I love. This weekend I have plans to walk my pup to our neighborhood shop to get him a fancy cookie and get the cats something else they can enjoy throwing off counters, and I can't wait!
If you haven't sent your customers Valentine's Greetings informing them of the special treats, toys, and fun things that they can gift to the pup-loves and meow-friends in their lives then now's the time to get started!

Marketing Materials: Holiday Template with Offer Elements and Double Image Element to showcase your Valentine's themed goodies.
Sharing the Love: This is a great time of the year to promote your Sharing the Love programs.
My Promotion Ideas: $/% Off a product you Love! $/% Off any 1 product your customer loves!
Social Media Fun: Invite your customers to share a love letter to their pet. Ask them to share their adoption story.
Related Pet-Themed Holiday: Feb 20th is Love Your Pet Day. Holiday Template available soon!
BONUS!

Canva Template for Valentine's Day Offers!
This template is currently sized for a Facebook Post, but you can use the Canva editor to modify it for any social platform. Click the image to grab the share link. Make sure you edit it and add your store's logo to the bottom left-hand corner (where the Big Dogs placeholder logo is located).
The Offer Images can be found in your Image Library, which is housed within the Astro Marketing Suite. Or you can download the image directly from your Enrolled Offers list.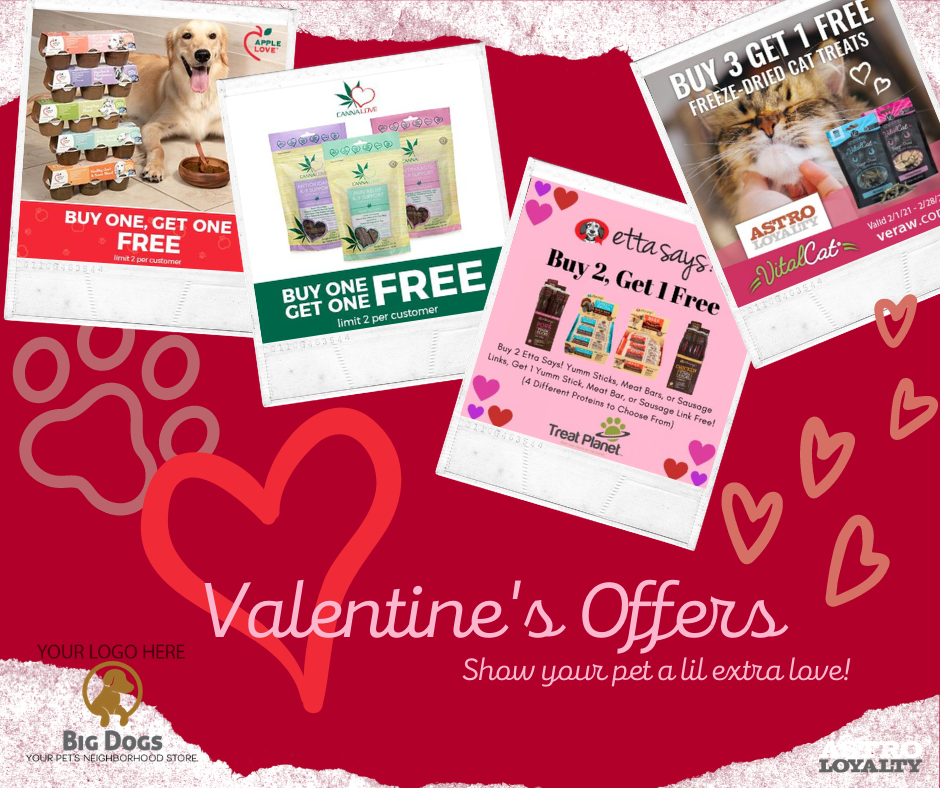 February's Month-Long Holiday Marketing Guide
Includes Marketing Guides, Canva Links, Astro Offers Pairings, and Social Media Campaign Ideas.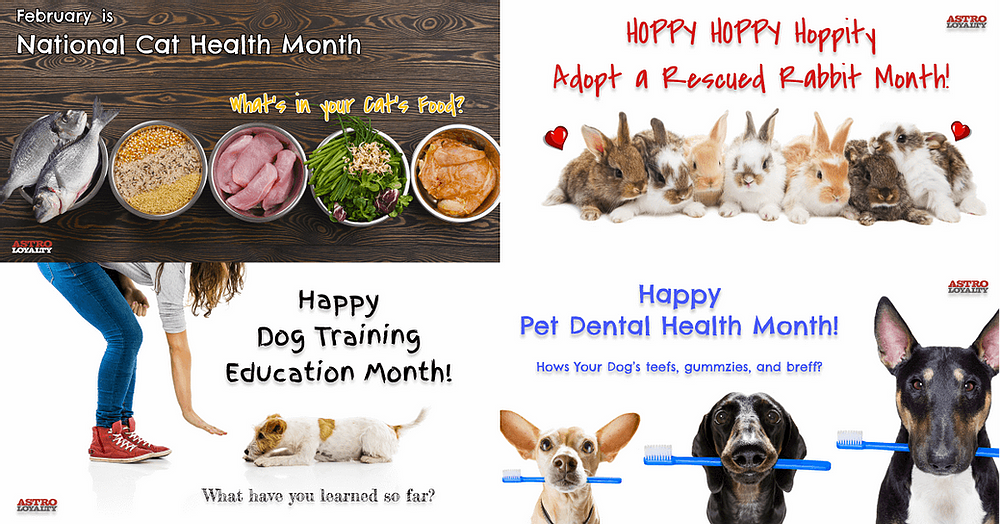 Loyalty in Action Blog Article to Share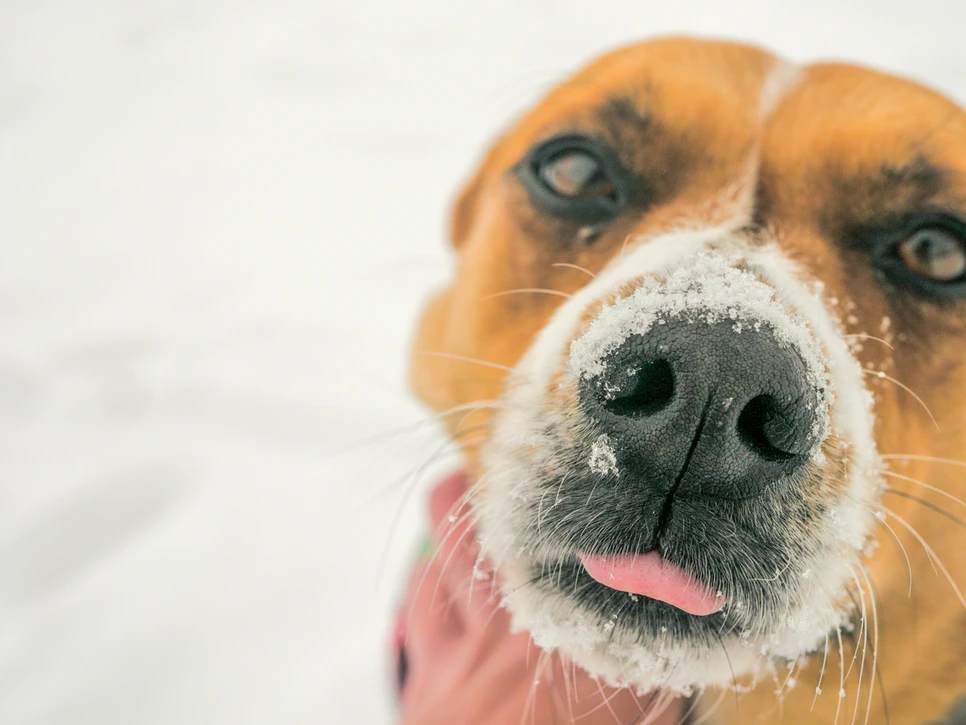 The Loyalty In Action Blog was created in order to provide Neighborhood Retailers with educational materials to share with their customers. These articles were designed to help identify general pet lifestyle questions and identify local pet shops as the source for the answers to these questions.
This week's blog is all about dog winter safety and what pet owners can do to ensure their dogs are safe as the weather gets chilly. When sharing this blog make sure to mention any supplies that your shop carries that fit the theme. And if you have your own tips to share, include them!
How is it that cold weather comes around every single year, but somehow it feels like we're always unprepared for it? While you're shuffling through boxes in storage searching for your homemade Bernie-Mittens, or shopping for a new scarf, be sure to take some extra measures to keep your dog safe and comfortable this winter.
From hypothermia and frostbite to injured paws and antifreeze poisoning, there are a lot of things to watch out for in the colder months. Read the tips below and show winter who's boss! – Top 5 Ways to Keep Your Dog Safe This Winter