If a black cat crosses your path this August 17, don't think of it as bad luck – take the opportunity to toss them a special treat or two! August 17 is National Black Cat Appreciation Day, when cat owners and shelters across the United States band together to show support for the miniature house panthers of the world.
Why Black Cats Need Our Support
Maybe you've heard that black cats are related to witchcraft or other supernatural forces (or maybe you're a Cubs fan). Although these superstitious associations between cats and misfortune are centuries old, they still influence the lives of black cats today.
Black cats make up the highest intake among shelter cats and have the highest rates of euthanasia. They're also especially endangered around Halloween; many shelters cite fears of black cats being used for rituals, though a more common hazard is owners adopting black cats for the holiday, then quickly growing tired of them afterward.
Another reason black cats overpopulate shelters? They don't photograph well, and potential adopters browse with their eyes first. It''s even possible that black cats are more rarely adopted because they don't make for flashy social media accessories.
Why Black Cats Amazing
Whatever the reasons behind their unpopularity, black cats deserve our love and support. In reality, these little shadows are adored for their sleek fur, striking eyes, and expressive personalities. After all, black goes with everything, and it's always in style!
Besides, in many countries black cats symbolize good luck and prosperity – especially for one's love life. English lore says a black cat gifted to a bride on her wedding day will bless the marriage, and in Japan a black cat will attract potential suitors to the home of a single woman.
Whether or not you're looking for romance, any cat owner will tell you that black cats (like other cats) are perfectly sweet and friendly home companions. Plus, as an added bonus, research suggests the same genes that give cats their black coats may make them more resistant to diseases.
How to Celebrate Them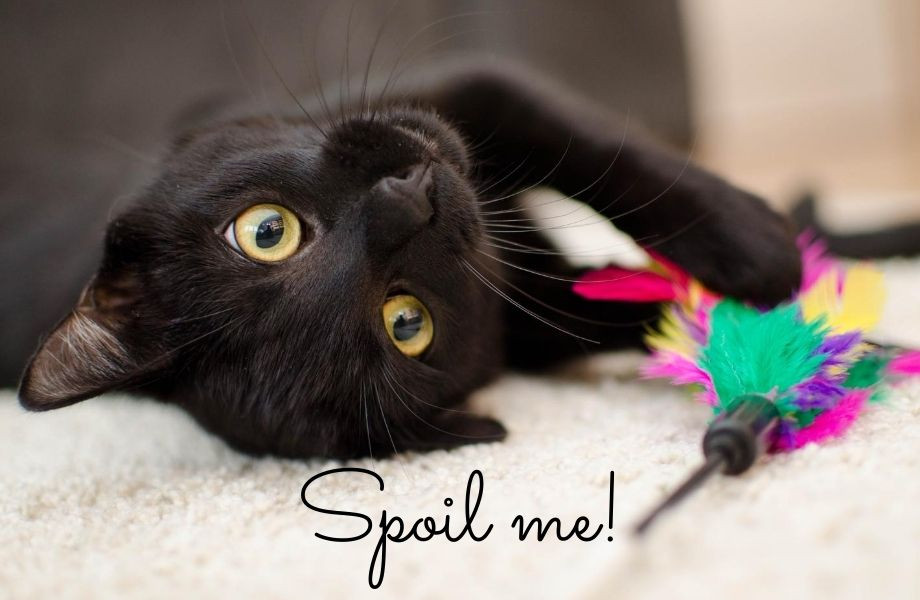 If you know or love a black cat, or if you're interested in adopting one of these misunderstood felines, be sure to check out your neighborhood shelter on August 17, when many local rescues and shelters hold black cat adoption specials.
Okay, your black cat probably thinks every day should be black cat appreciation day – but this is a good start.