This edition includes:
How to Make the Most of your Astro Offers
It's simple, all you need to do is ENROLL and utilize all or some of the Astro Offer Marketing Tools outlined below:
Retailers who utilize the Astro Offer Marketing Tools mentioned above to showcase their Offers to their customers regularly see anywhere from several hundred to several thousand dollars in additional sales each month!

TIP: Marketing a Brand's Astro Offer with their Frequent Buyer Program is a great way to introduce a pet owner to a new product – you can give them a discount today via the Offer and the promise of a free good down the road when they complete their new loyalty card!
The majority of the Brands on Astro have both Offers and Frequent Buyer Programs, check your Available Astro Frequent Buyer list today to make sure you haven't missed any newbies!
You Asked and Now You Shall Recieve! Introducing the NEW Astro Media Kit!
You guys! Are you ready for this?!
Download your FREE Astro Media Kit today and start decorating your stores with signage that alerts your customers to your Exclusive Loyalty Programs such as Frequent Buyer and Offers, and gives them a QR code to download your Customer Loyalty App for FREE.
Yup, your store has an APP!
TIP: Take 2 minutes right now to make sure your store's Mobile App is customized and your contact info is correct. Then start printing your new signs!
Your free Media Kit is a BIG one! Below is a preview of less than 1/4 of what is included!
Here's what you'll get when you download…
Flyers or Signs for Acrylic Stands to place beside your registers or hang up around your store — 3 Designs with 2 color variations — 5.5×7″ & 7×11″

Posters to hang up around your store or place in the window — 2 Designs with 2 color variations — 11×17″ & 20×30″

A Counter Mat to fasten to the counter beside your register — 1 Design with 2 color variations

Shelf Talkers that fold over so they can tuck under product and hang on your shelves — 3 Designs with 2 color variations

Shelf Wobblers to advertise all common variations of available Frequent Buyer Programs — Buy 6, Buy 10, Buy 12
NEW Astro Loyalty Brand Partners! What Are They Offering You and Your Customers?
Sanicat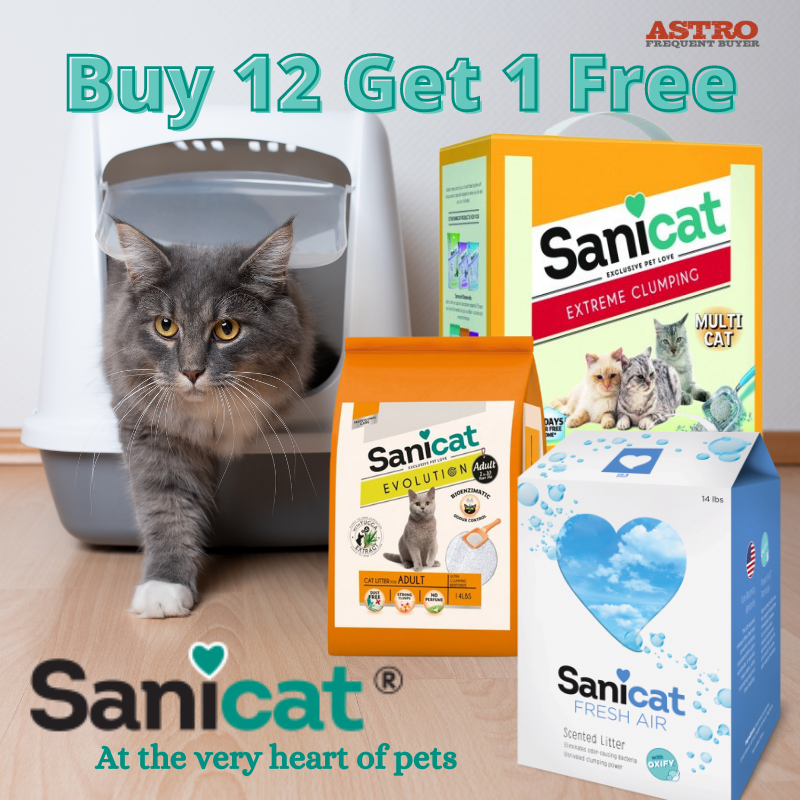 Sanicat joins Astro Loyalty and launches a brand new Buy 12 Get 1 Free Frequent Buyer Program! This program contains all formulas and sizes of their cat litter.
Sanicat has a great blog full of educational materials to educate both your staff and your customers about their products.
*Enrollments in this program are pending until they can be reviewed by Sanicat. If you want to expedite the pending approval process reach out to your Sanicat rep.*
Everything we do at Sanicat is for the love of pets. So our new line of cat litter features proprietary Oxify™ technology and 100% undiluted Wyoming Bentonite to reduce odors naturally.
Pet Naturals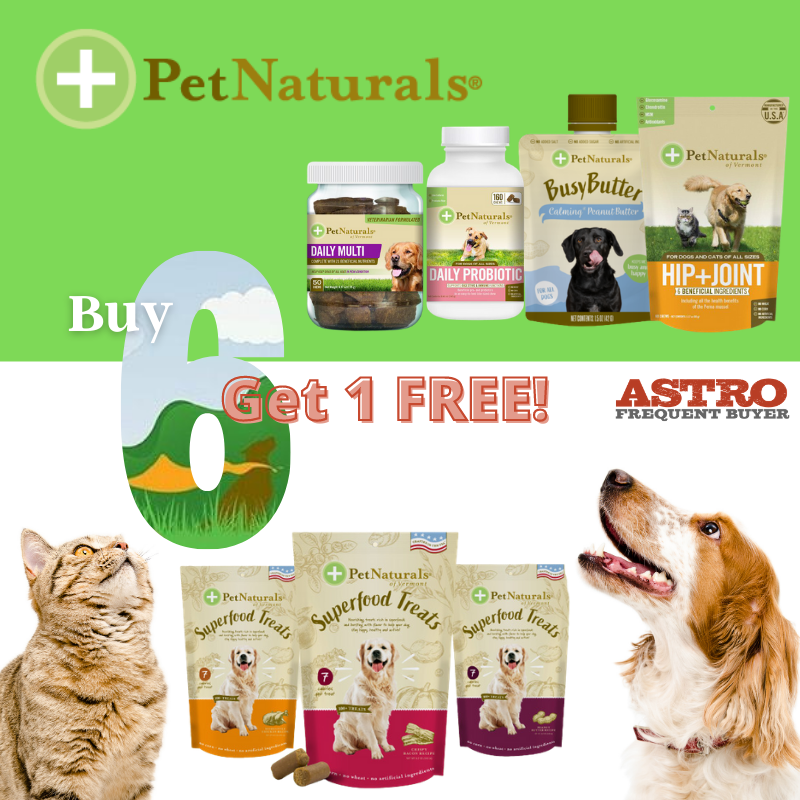 Pet Naturals joins Astro Loyalty and launches a Buy 6 Get 1 FREE Frequent Buyer Program for their Pet Supplements and Treats!
And that's not all! Pet Naturals has committed to publishing a calendar of Astro Offers starting this April! This means more deals for your customers on regular basis.
So keep your eyes peeled and add them to your My Brands on your Available Astro Offers page now so you don't miss them!
Looking for tidbits of pet tips and holistic info, check out the Pet Natural's Blog. I really enjoyed this very helpful article about helping your dog overcome separation anxiety and I'm sure your customers will enjoy it as well!
We're proud to offer a wide variety of pet supplements to meet your companion's specific needs. From hip and joint chews to calming supplements, Pet Naturals® has a formula to support your pet with an alternative approach to wellness.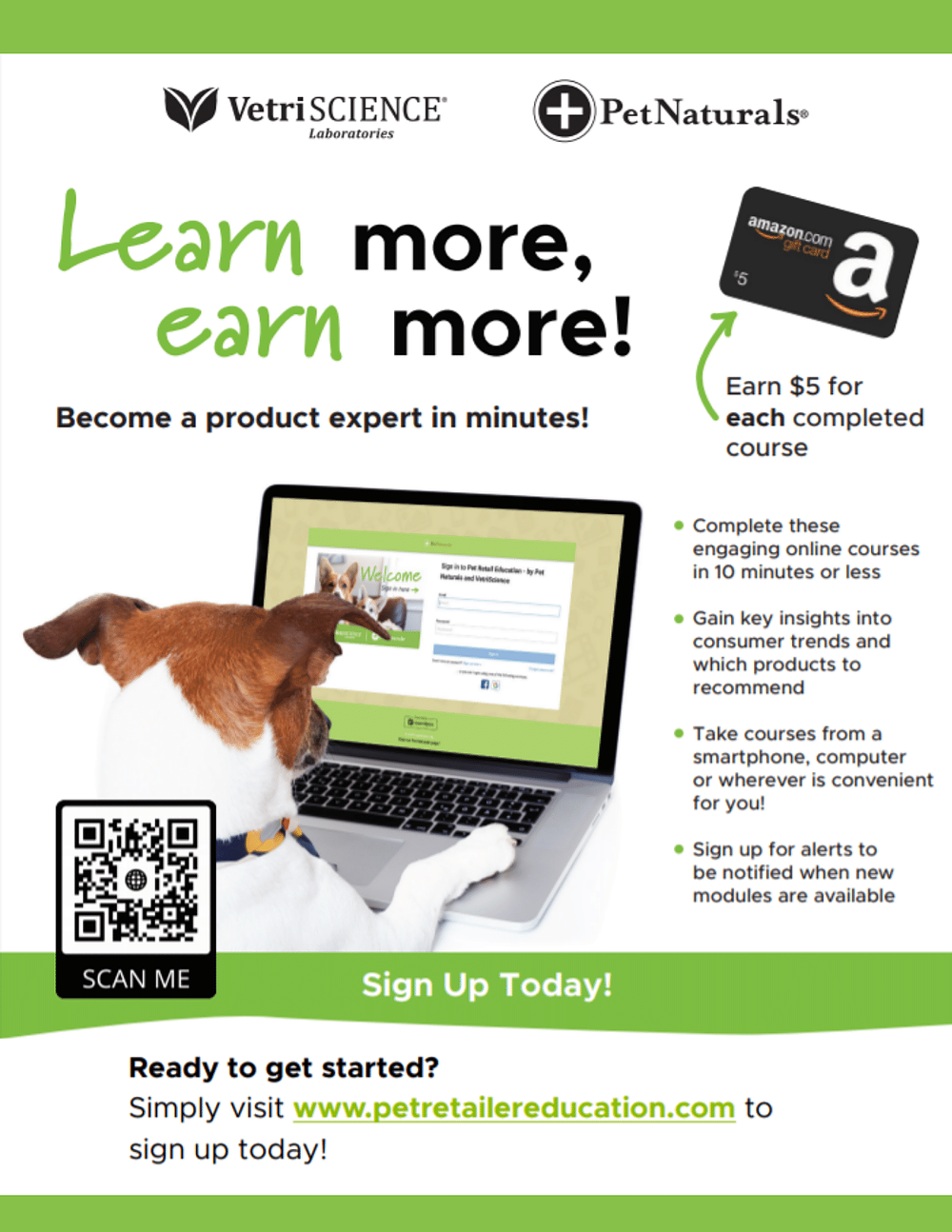 Dear Neighborhood Pet Shop,
Your customers rely on your pet care knowledge but it can be a challenge to keep up with the latest trends and products in the pet health industry. We've made it easier for you to stay informed by highlighting the benefits of Pet Naturals® and VetriScience® products through our new Retailer Education Portal.
Click the link in the flyer to sign up today!
Thank you,
Your Friends at Pet Naturals® & VetriScience®