Canidae's Astro Loyalty Programs – Only Available at Neighborhood Pet Shops
Canidae has enthusiastically launched loyalty programs on all Astro Loyalty platforms:
Shop Local Frequent Buyer – Multiple programs with all products represented!

Exclusive Astro Offers – Current Offer extended through April! Introduce CA to your customers!

Sharing the Love! – Multiple Adoption Programs with a Bounce Back Coupon to give you several opportunities to engage with and win over new pet owners when they adopt a pet from a local rescue or shelter!
Canidae has your back when it matters most. They care about supporting Independent Retailer just as much as they care for the health of our pets.
Canidae Introduces CA: Optimum Protein Tailored for Every Type of Dog!
Canidae's latest innovation, Canidae CA, offers optimum protein for every type of dog. With varying activity levels, dogs need different amounts of protein.
Not sure what activity level a customer's dog fits under, Canidae has some tips and a quiz to help you match a pet with their ideal formula.
Canidae CA comes in formulas for low activity (CA-20), moderate activity (CA-30), and high activity (CA-40), and is made with premium ingredients and real meat, poultry or fish as the #1 ingredient. Exclusively in the independent channel.
"Canidae's new line CA is designed to meet the needs of varying activity levels and lifestyles. Just like with people, optimal nutrition is not a one size fits all approach for dogs."
~ Renee Streeter, DVM, DACVN
Canidae CA: Only Offered at Independent Retailers!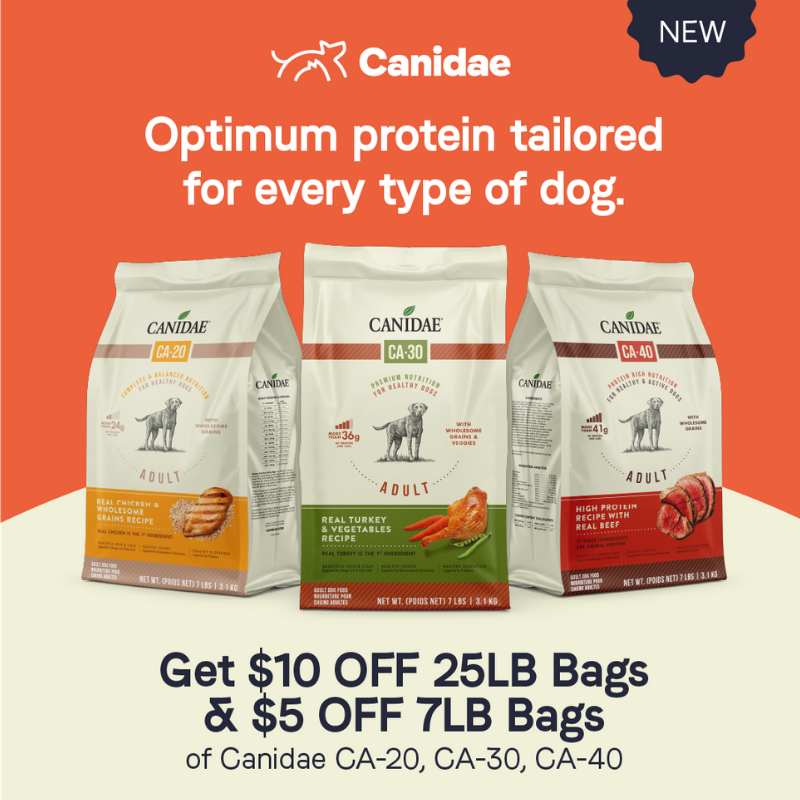 Click to Enroll in Canidae's Astro Offer!
Canidae CA will not be available for purchase at Big Box stores and massive online retail sites (rhymes with Dewy & Babylon).
Canidae understands that independent retailers are able to educate their customers when it comes to pet nutrition, and are thus best suited to
This means that pet owners in your community will come to your store to learn more about Canidae CA! They will be thrilled to find out that you can provide them with regular Offers, such as the one above, and a Canidae CA Buy 12 Bags Get 1 Free, Frequent Buyer Program that will save up to 10% off retail! The perks to shop local never end. ❤
Canidae CA Marketing Materials Available in Astro's Marketing Suite
News Images for Canidae in the Brand Media Library.
Beatrix loves to take it easy. She's probably lounging in her sunny spot of the house napping or gazing out her window. She needs CA-20.
Sometimes Murphy is full of energy. Other times he's happily taking up half the sofa. Whatever his mood, it's all about balance for this pup. He needs CA-30.
Running, playing, and fetching –

Rosco can do it all day, every day. He never stops moving, except maybe for a few "good-boy" pets. He needs

CA-40

.
We have also added these images and some details about the new line to an educational Astro Template. This article will explain how to send your campaign from start to finish. The CA template is categorized in the Astro Template Library under Generic Offer Templates / Most Recent.
Need help? Your Astro Team has your back! Email us at support@astroloyalty.com and we'll queue up the CA Campaign for you and all you'll need to do is send it!