September is here, which means the Fall Season is right around the corner.  We are stoked for the cooler weather, the hotter Offers, new Brands joining the Astro Band, and of course Spooky Season!
This Edition Includes:
New Frequent Buyer Program: A Pup Above
A Pup Above
is a high-protein fresh dog food brand based in Texas. They use a unique process called
sous-vide
to slow cook their foods preserving, rather than cooking off, the naturally occurring vitamins, proteins, and nutrients.  Their ingredients are 100% human-grade and they only source non-GMO produce and meat without steroids, antibiotics, and hormones.
---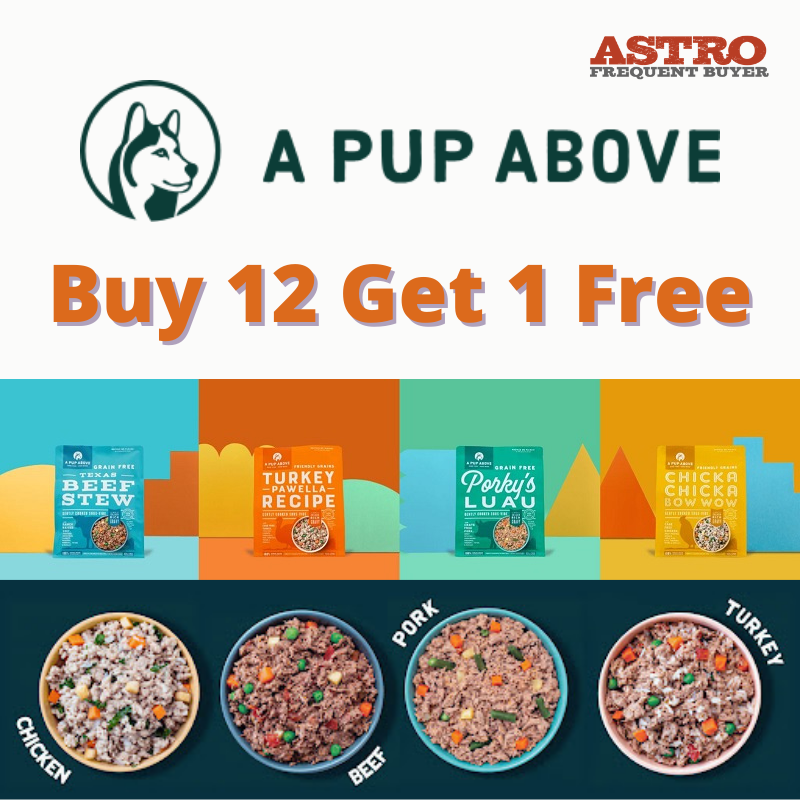 A Pup Above | Official Frequent Buyer – Buy 12 Get 1 Free
USA – Select States / Retailers
Fresh Dog Food Frequent Purchase Program. Buy 12 Get 1 Free. Items are grouped according to Species (Dog) and Size Range (S/L). The Free item will belong to the same Size Group as the 12 qualifying purchases. Customers have 12-months to complete the card.
Retailer Enrollments are Pending the Approval of A Pup Above
.
Victor Joins Astro Offers
Victor Pet Food
launched this first-ever Astro Offer this month!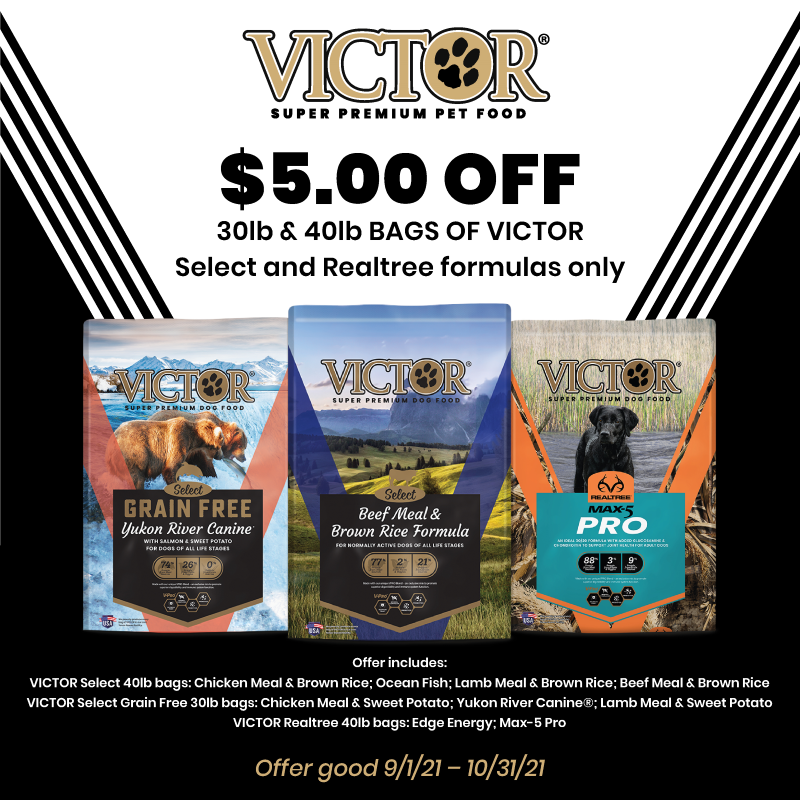 Victor Pet Foods | $5.00 OFF Select Dry Food
Save $5.00 on 30lb and 40lb Bags of Victor Select line and Realtree line. Available in the USA. Offer Good Through: Sunday, October 31 2021
Enroll Today!
---
September Pet Holiday Guide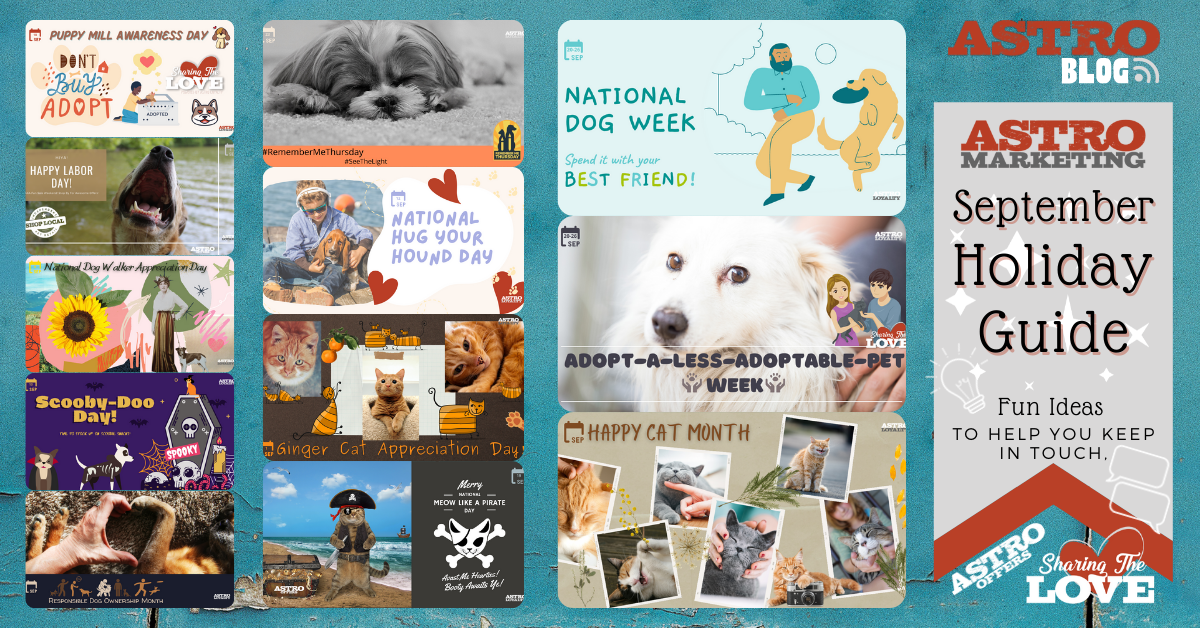 September is packed to the brim with pet-themed holidays. The big ones include National Dog Week, Happy Cat Month, Adopt-A-Less-Adoptable-Pet Month, National Bunny Day, National Pet Bird Day, Remember Me Thursday… and my fav Meow Like a Pirate Day! Check out
Astro's September Guide
for Astro Offer Pairings, an outline of the Marketing Materials added to your Astro Marketing Suite libraries, Social Media suggestions, Hashtags, Fun-Facts, and more!
Astro Offers


Astro's Weekly Webinar Series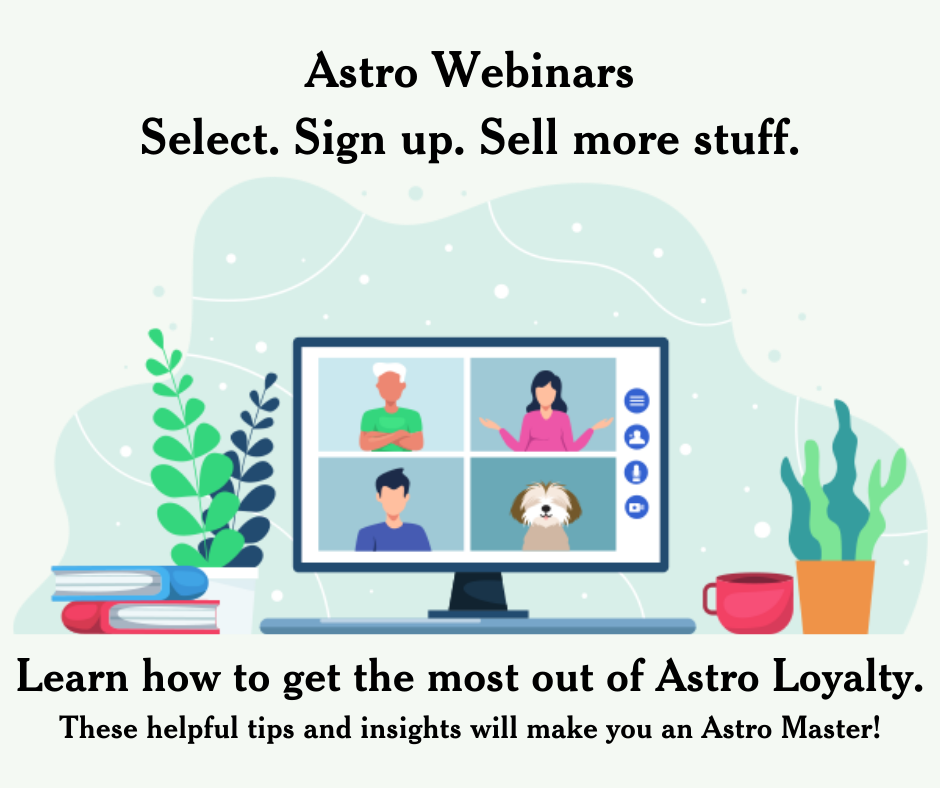 Whether you are a Neighborhood Pet Shop just getting started on their Astro Journey or a seasoned Astro Member who wants to learn more about the massive benefits of
Astro Offers
or our
Astro Marketing Suite
– your Astro Team has a webinar for you! Every
Tuesday
join your
Astro Team
to cover the basics of what makes Astro a great tool for boosting your shop's local loyalty.
Astro Webinar Registration Page.
On
Wednesdays
join your
Astro Marketing Team
for their latest
Deep Dive into Marketing LIVE Episode
. We cover a new topic every week – from
Sharing the Love
to Template Design and everything in between.
Marketing Suite Registration Page.
The September Marketing Series includes:
Sharing the Love (open to all Astro Members – Retailers, Brands, and Distributors)
My Image Assets & Brand Media (directed to our Brand Members, but all are welcome to attend)
Fun with Canva (requested by some of our retailers at Superzoo and we are happy to oblige!)
Is there a topic that you would like to see us cover?
Request one here
. And finally, on
Thursdays
, you can hang out with our
Astro Offers Team
and learn just how powerful this FREE platform really is!
Offers Webinars
. Recordings of each webinar will be emailed automatically to all who register prior to the live event. You will receive a recording regardless of whether you were able to attend the live event. Recordings of past Marketing Webinars can be found linked on the
Marketing Webinar Registration Page
.
Click here for more info and links to register.
The Astro Marketing Suite's Brand Media Library is Bursting with New Sharable Images
Your favorite Brands have been working hard sprucing up their Astro Program Images and adding new Social Media and Shelf Talker images to your
Brand Media Library
within the
Astro Marketing Suite
. Our end goal is to make sure that all Astro Program Images are of a high enough resolution to look awesome if shared via
Astro Social
and that each image shared can stand on its own to describe the program it represents. To our Astro Brand Partners who would like some more info on how to best spice up their image assets join us at 3:00 PM EST Wednesday, September 8th for our Marketing Deep Dive Webinar of the week –
Register Here
. Instructions, real-life image examples and Astro Logos can be found in our
Astro Logo Media Kit
.
New Astro Blog – How to Use Local to Your Advantage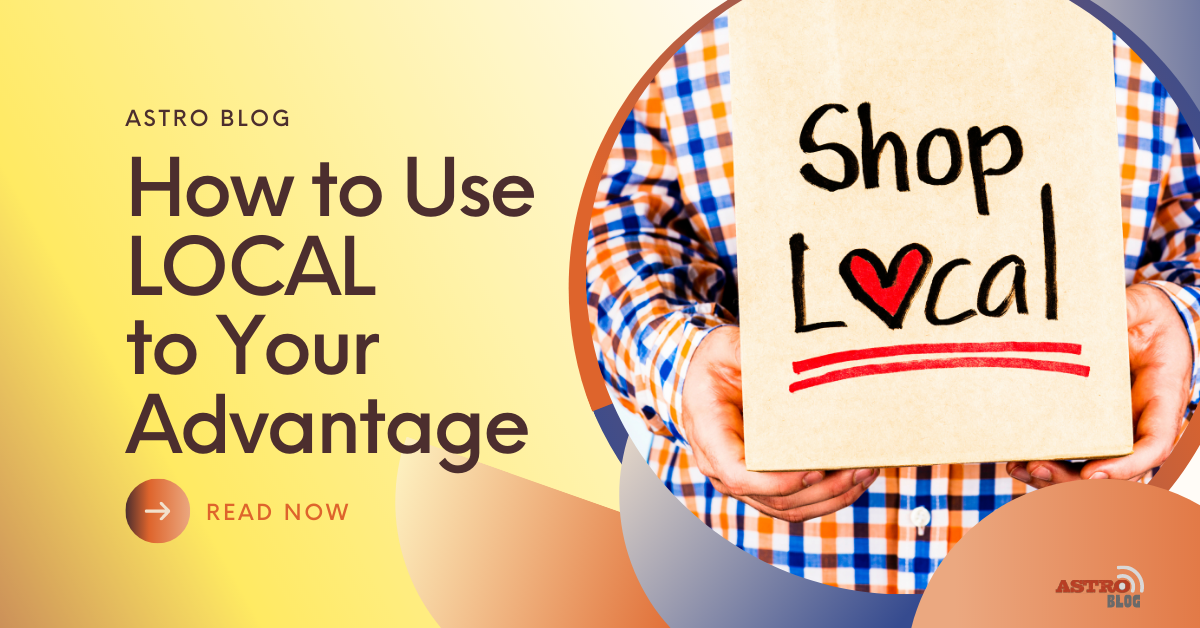 As a smaller business, the sheer size and reach of big-box stores and large online retailers can be intimidating, but there are some things about local independent pet stores that they'll just never be able to compete with. This article will cover some of the benefits that your customers get when they shop local with you and help you understand the unique value you offer and how to show that to others.
Click here to read the full article!