We've all been there. You're waiting in line with your groceries, your eyes happen to wander across the shelves of candy bars…and before you know it, you're leaving with way more holiday chocolate than you originally intended. Wait, what just happened?
Impulse buying isn't just limited to groceries, and five out of six American shoppers make at least an occasional impulsive purchase. The role of in-store promotions can't be underestimated here, since an incredible 91 percent of in-store shoppers make these purchases thanks to promotions. In other words, promoting offers and sales within your store is just as important as bulking up your local business's presence online.
Here are some creative ways to promote your pet store sales and offers in your store.
Shelf Talkers
Shelf talkers: they get people talking. These are small, printed signs you can stick to the shelf to inform shoppers when a product is associated with a promotion. They're a great way to draw shoppers' attention instantly – wouldn't you be more likely to snag that bag of peanut butter dog treats if it had a significant discount?
Shoppers, especially casual browsers, are more likely to be converted into actual buyers when they are aware of a promotion. Shelf talkers and sale stickers create a mild sense of urgency – you don't want to miss out on a great deal – but, interestingly, the sense of getting a good bargain also genuinely makes shoppers feel happier and more fulfilled. At Astro Loyalty, we create and distribute these for every one of our monthly offers so pet store owners have an easy way of keeping customers up-to-date.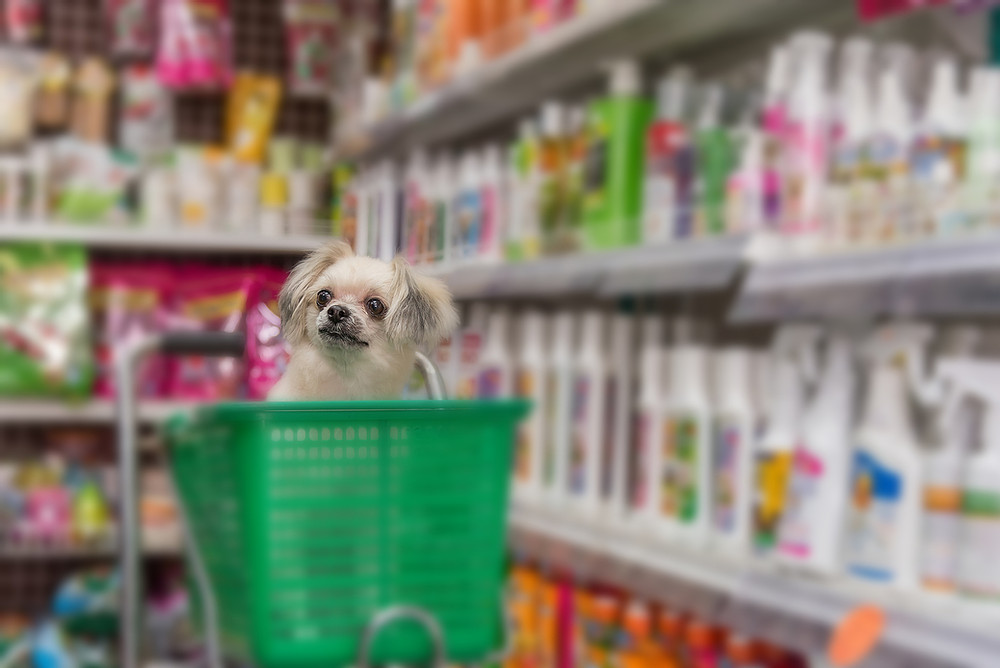 Creative Product Placement –
Help Your Customers Find Great Deals!
Shoppers are much more likely to buy promoted items if those items stand out from the crowd thanks to creative display design and careful store positioning. Remember those grocery store candy bars? Small, inexpensive items that are seen as tiny luxuries and aren't bought in bulk – like individual pet toys or pet treat samplers – do well placed near the register or on a little table near the front of the store, where customers are more likely to impulse buy them or pick one up on the way out.
For larger items or bulk offers, set up colorful displays in prominent, "you just can't miss it" positions around your store that customers have to walk near to get to other aisles. If your products are going on the shelves, move your promotional items and sale stickers to eye level so they're extra noticeable.
Seasonal Promotions
There's a reason stores like Trader Joe's do a booming business in holiday treats. Highlighting the seasonal nature of promotions makes people more likely to feel like they must buy items before the promotion runs out. You can create a large blackboard for your store that lists time-sensitive promotional offers each month. For example, did you know July 19 is National Ice Cream Day? How about promoting a discounted froyo pup cup in honor of this very important holiday?
You should emphasize seasonal promotions in your product displays and events, too – costume pet collars when Halloween is on the horizon, for instance, or a display of doggy advent calendars during the winter holidays. Don't forget to promote these offers on your social media pages, which are also an excellent place to solicit customer comments with photos of their pets enjoying the promoted products.
Knowledgeable Staff
Train staff so they know what rotating deals you're offering each month, and encourage them to mention specials as customers check out at the register. Telling a customer that a bag of treats is buy 2 get 1 free will almost always lead them to buy that second bag. We recommend helping staff with a printout flyer of the current monthly offers, which they can use at the register or as a handout at the door.
In-STore Events
Get customers engaged with your offers through related in-store events: free samples, pop-up booths, product demonstrations, and giveaways all cause shoppers to stop, watch, and get curious about the brands and products being promoted.
Tackle shoppers' senses: set up a station where owners can let their dogs taste a new kind of treat (ostrich, anyone?), or where pet parents can sniff the fresh scent of a promoted brand of cat litter. With in-store customers, you can also encourage them to scan or save their receipts and enter giveaway codes online for discounts on subsequent trips, or for the chance to win prizes. This has the added bonus of bringing customers back to your store again in the future.
At Astro Loyalty, we want to help local pet store owners get the tools you need to dazzle your customers and get those promotions flying off the shelves. For more on the art of promotion and marketing, both in-store and online, be sure to check out our upcoming free course from Astro Academy, designed especially for pet store owners.