November is chock full of holidays that pair perfectly with Astro Offers, Sharing the Love Adoption Programs, and My Promotions. Astro has added new Astro Templates and Astro Images to your Marketing Suite that you can use to showcase your store's special promotions for the month.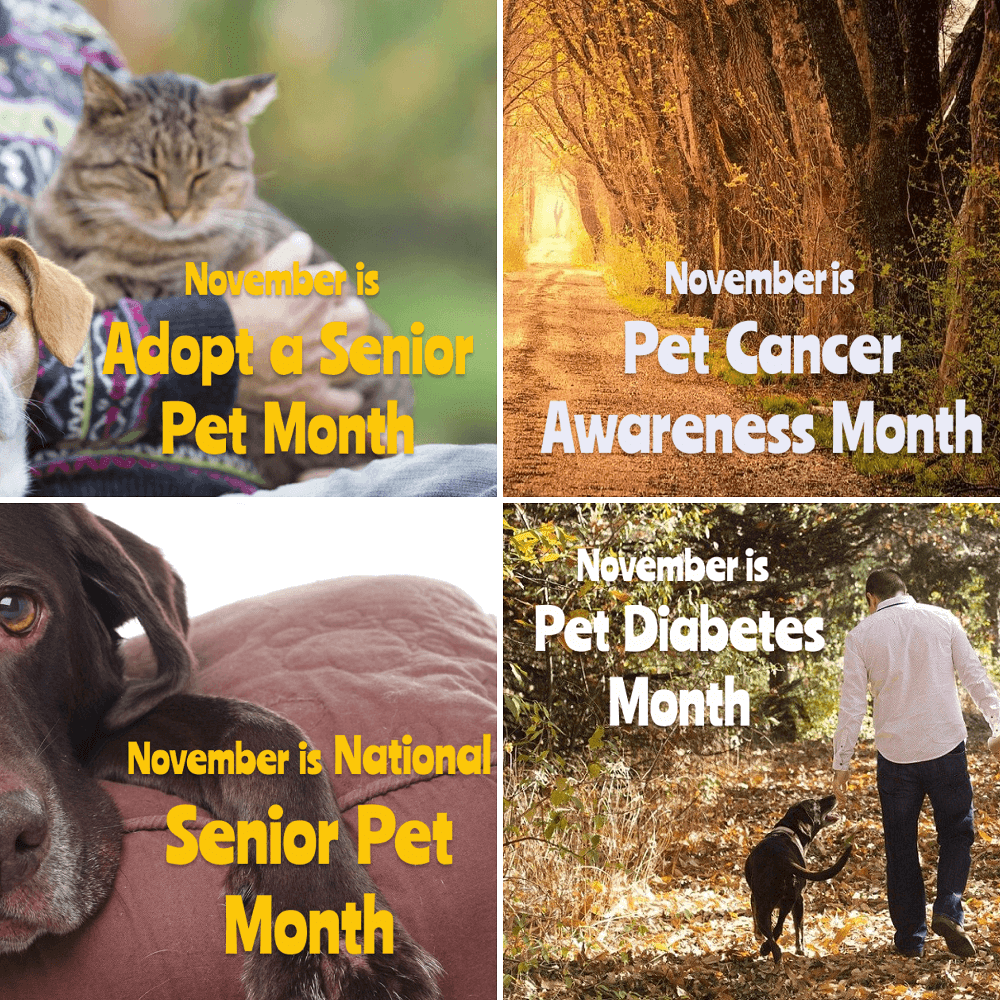 November's Month-Long Holidays
National Senior Pet Month

Adopt a Senior Pet Month

National Pet Cancer Awareness Month

Pet Diabetes Month
Week 1 | November 1st – 7th Holidays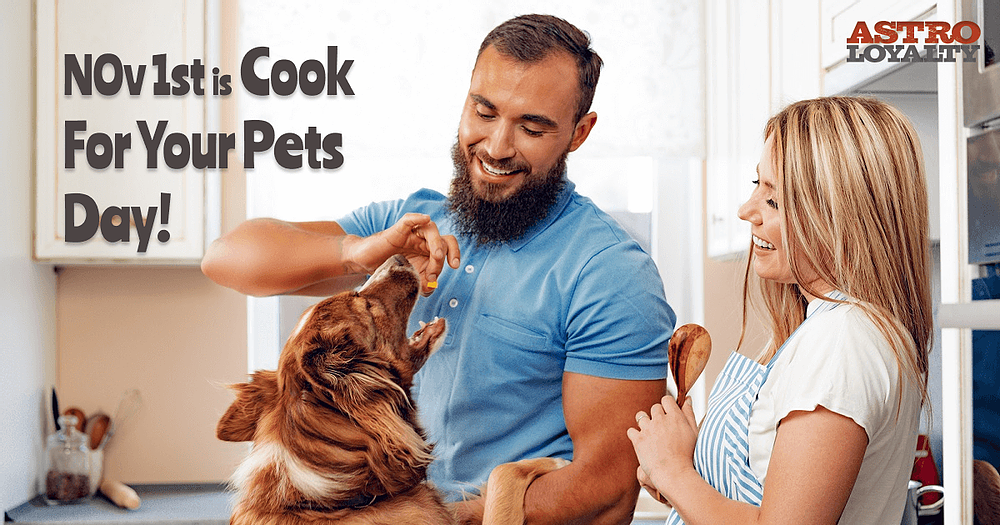 November 1st: Cook For Your Pets Day is a great holiday to get your customers thinking about what they feed their pets on a daily basis. We found some fun recipes shared by Primal Pet Foods and The Honest Kitchen on their blogs and added them to an Astro Template for you to share with your customers. Do you have any of your own healthy recipes to share? Are you able to offer a nutritional consult to your customers who are curious about adopting a new diet for their pets? Not everyone has the time to cook for their pets on a daily basis, but you as a pet nutrition expert can help them find the next best thing!
Marketing Materials: Astro Template with Recipe Links from your favorite brands, Astro Images
My Promotion Idea: $ Off Coupon for Any Customer who Requests a Nutrition Consult
Related Holidays: National Pet Cancer Awareness Month, Pet Diabetes Month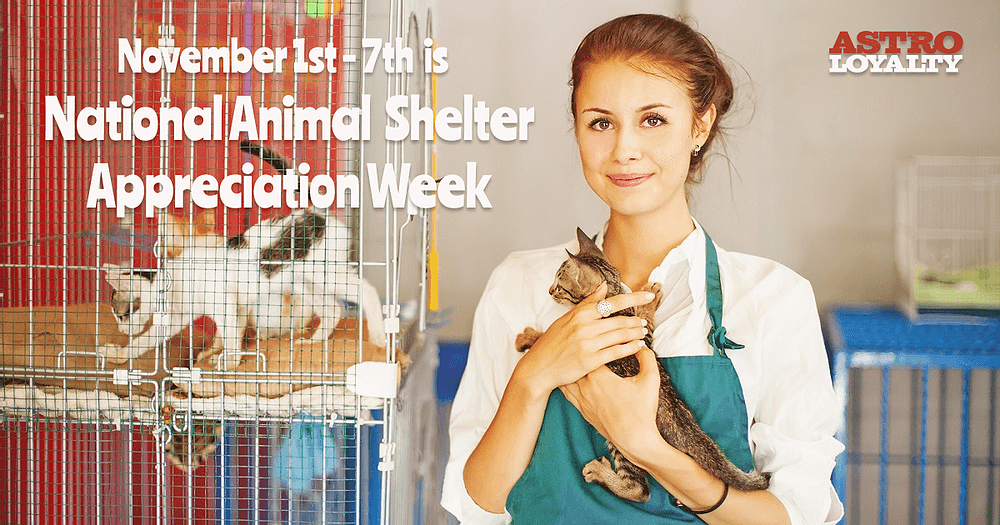 November 1st – 7th: National Animal Shelter Appreciation Week is all about showing our collective appreciation for those who work and volunteer at our local shelters. The caregivers, vets, vet techs, fosters, dog walkers, and kitty cuddlers. This holiday gives you an opportunity to show your community how you are supporting pet adoption with Sharing the Love. Make sure your local shelters are aware of this! Do you have a shelter in your neighborhood that is near and dear to your heart? Give them a shoutout on social media to show your support and ask your customers to do the same. Can you think of a nice gesture or fundraiser that you can organize on behalf of your community and brand partners to help make caring for these homeless pets a little easier this season?
Marketing Materials: Astro Template with Sharing the Love, Astro Images
My Promotion Ideas: $/% Off a Purchase to Any Customer who drops off a donation or contributes to your fundraiser this week
Related Holidays: Adopt a Senior Pet Month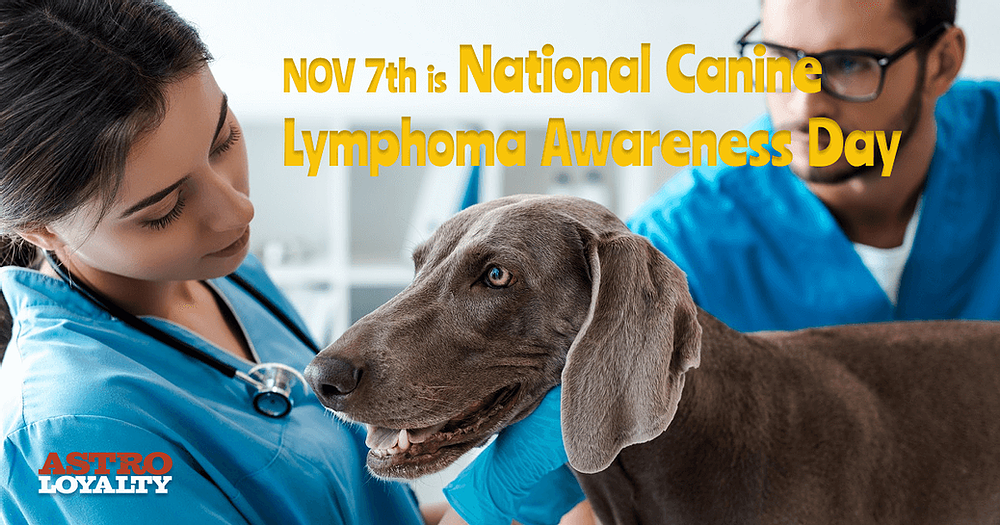 November 7th: National Canine Lymphoma Awareness Day was started to bring awareness to the most common form of canine cancer affecting our pets. CLEAR (Canine Lymphoma Education Awareness & Research) is a nonprofit organization that is dedicated to increasing awareness and understanding of canine lymphoma through clinical research and as a resource to dog owners interested in prevention and treatment of this devastating disease. CLEAR will put on a virtual 5k run/walk – CLEAR's Jog for Dogs 2020! Participants will be able to run, jog, bike or walk a 5k anywhere, any time, between November 1 and December 31.
Marketing Materials: Astro Template with Awareness Links, Astro Images
Related Holidays: Pet Cancer Awareness Month