November is chock full of holidays that pair perfectly with Astro Offers, Sharing the Love Adoption Programs, and My Promotions. Astro has added new Astro Templates and Astro Images to your Marketing Suite that you can use to showcase your store's special promotions for the month.
Month-Long Holidays
National Senior Pet Month

Adopt a Senior Pet Month

National Pet Cancer Awareness Month

Pet Diabetes Month
Week 2 | November 8th – 14th Holidays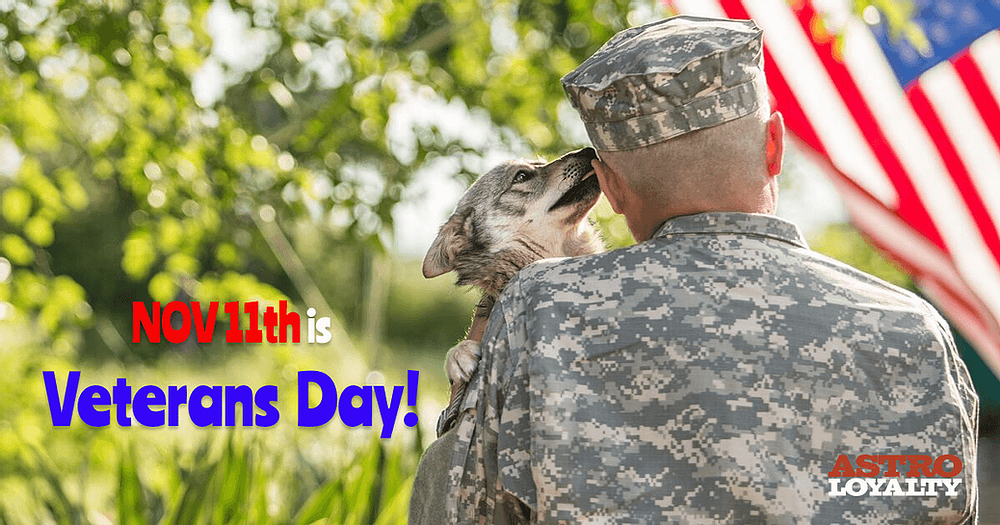 November 11th: Veterans Day is a tribute to military veterans who have served in the U.S. Armed Forces. On this day we can also celebrate our canine veteran heroes! Some of these dogs have achieved legendary status, such as Sallie, the Civil War mascot who guarded injured soldiers on the battlefield; Chips, the World War II canine hero awarded the Purple Heart; and Cairo, who was involved in the takedown of Osama Bin Laden. We also know that our human veterans who are battling PTSD benefit greatly when they adopt a companion animal. Sharing the Love invites pet owners, veterans included, who have adopted pets this year to redeem their Welcome Home Care Package from their neighborhood pet shop – make sure you are part of the Welcoming Committee!
Marketing Materials: Astro Template with Sharing the Love, Astro Images
My Promotion Ideas: $/% Off a Toy, Treat, or Serice for Veterans who have Adopted a New Pet this month/year. This Promotion can be included in the Sharing the Love Welcome Home Care Package.
Related Holidays: Adopt a Senior Pet Month