Every shelter, program, or person working diligently with rescue pets has the same goal: to get all of the pets that come through your door back out to loving families and forever homes.
At Astro Loyalty, let us help you achieve that goal. We want to work with everyone who loves and takes care of rescue pets to build our Sharing the Love program, which rewards new pet adopters and their recently adopted pets while working with local, independent businesses.
How We Help Pet Adopters
Astro Loyalty and some incredible pet brands have teamed up to provide free gift bundles of food, treats, supplements, and supplies to local, indy pet stores to help new adopters say "Welcome home!" to their pets. These are premium free items that every pet parent will love – the perfect way to start pampering the newest family member.
Not only will new pet adopters be thrilled at the complimentary gift, but anyone who works with animals can understand the importance of giving pets high-quality supplies. At Astro Loyalty, we make sure to only partner with major, independently-owned brands that genuinely care about the quality of their pet products.
Sharing the Love for Pet Foster Parents
Pet foster parents, we want to take a moment to acknowledge you as the unsung heroes of the rescue pet mission. Fostering has so many important benefits for the pets we adore: thousands of pets learn to trust and socialize with humans, thanks to a little extra love and care from you.
Even if it's sometimes hard to say goodbye to foster pets, we know you want to make sure they're going to the best permanent home possible. You know better than most how much some special, high-quality treats can make both a pet and their owner feel appreciated (and that nothing helps a pet and their owner bond like food).
You also know how many wonderful pet parents just need that last little push into filling out the adoption paperwork and taking home a lifelong companion. If you're a pet foster parent or member of shelter staff, Astro Loyalty wants to help you raise awareness of pet adoption and win over more potential owners.
Supporting Our Local Communities
Whether you're a shelter or a fosterer, you can help by sending all your pet adoptions to the nearest participating independent pet retailer. This allows us to reward new adopters, and is also an incredible way to build relationships with local businesses.
It's tough out there for local pet shops trying to get noticed among all the big-box stores, just like it can be difficult for pet shelters to get the word out about pet adoptions. By participating in Sharing the Love, both shelters and stores get to support and promote each other by doing what they love: helping take care of new rescue pets.
Shelters can get coupons to give out to new adopters encouraging them to visit these local pet shops. New adopters will be thrilled to learn more about their local pet community while also receiving free gifts for their new pet and raising awareness about local rescue organizations.
Everyone wins. Local businesses get new customers, new adopters build connections with independent stores, foster parents watch their furry friends find happy homes…and of course, the pets get presents. They will definitely be happy about this situation.
Join us in Sharing the Love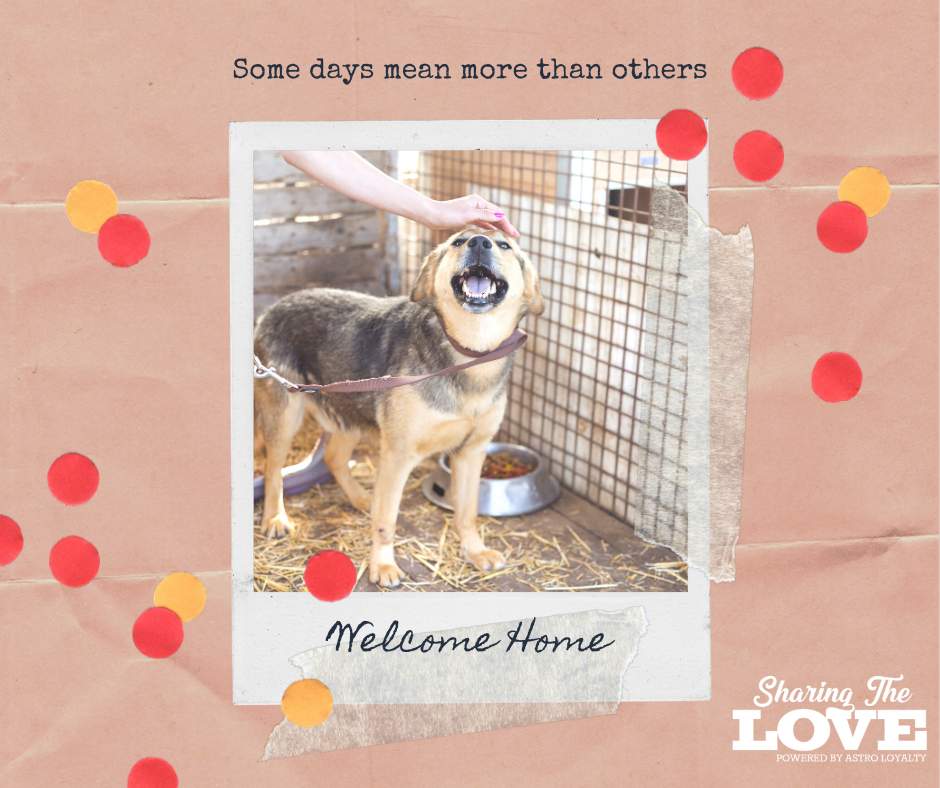 Help us spread the news about Sharing the Love and Astro Loyalty's efforts to reward pets, pet adopters, and future pet parents throughout the U.S. Check out the program online, and don't forget to look for your participating stores nearby! With our furry friends peeking over our shoulders (or maybe sitting on the keyboard), let's work together to reach as many new adopters as possible.