This Week's Top News:
Marketing Materials for January's Week 3 & 4 Holidays
Tomorrow is Answer Your Cat's Question Day! This has the potential to be a great social media campaign! Start a conversation about the cat health and lifestyle questions that your customers have gathered from their cats, and impress them with your knowledgeable answers.
This upcoming weekend we have Change a Pet's Life Day and Peanut Butter Day.
Change a Pet's Life Day focuses on the joys of pet adoption, but you can take it one step further and use this as a platform to bring up the topic of proper nutrition and how life-changing certain healthy choices can have on a pet.
Pair this holiday with Sharing the Love and you cannot go wrong! Sharing the Love allows you to reward those customers who have chosen to adopt a pet with a free Welcome Home Care Package which is bursting at the seems with healthy foods, treats, and supplements. This gives the pet owner what they need to start their new pet on a journey of health, and they have you and your team as a guide if they need help along the way.
Peanut Butter Day is one of those fun holidays that you can use to showcase the peanut butter infused products you and your customers have grown to love. You can also use this holiday to share with your customers some of the toy stuffing tricks that you have learned that are best for occupying an active pup in situations that require peace and quiet.
Seeing Eye Guide Dog Day is on the last Friday of the month. On this day you can call attention to the good work The Seeing Eye school has done for the members of the blind community. You can also choose to pair this holiday with Sharing the Love. Yup, any dog that is welcomed into the home to serve the pet owner as a service or guide dog is eligible for a Welcome Home Care Package!
For more inspiration and an outline of the Marketing Materials Astro has provided for these holidays check out our Promotion Calendar & Guide for January's Day-Long Holidays.
New Lifestyle Article to Share with Your Community!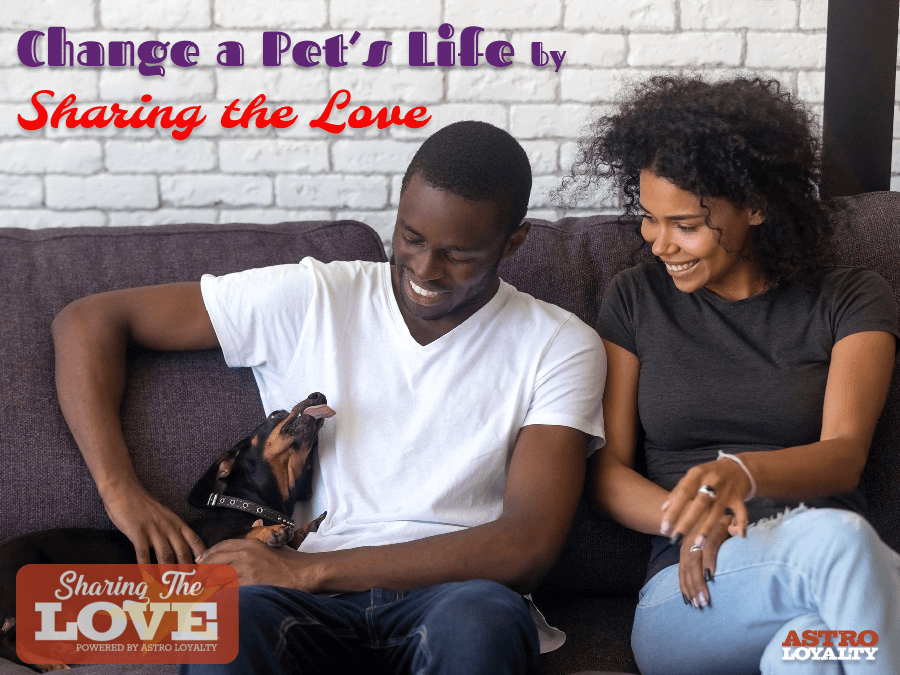 Click for Full Article
This article was created in order to provide you with more content to share with your customers on Change a Pet's Life Day. The focus is on the connection between Sharing the Love and how both Adoption and Nutrition can change a pet's life for the better.
Sharing the Love connects the neighborhood pet shop with new pet owners so they can work together to ensure that the lives of adopted pets continue to improve on a daily basis. They say it takes a community to raise a child. Well, I believe the same goes for our pets!
Whether or not your store is participating in Sharing the Love, we believe this holiday affords you several valuable opportunities to discuss the ways in which your business can assist a pet owner in changing the life of their pet. This can be in the form of nutrition, training, and boarding/doggie daycare.
February Holiday Promotion Calendar: Sneak Peek!

Whoo-wee! February is the shortest month of the year, but it is in no way lacking in pet-related holidays!
Month-long Holidays for February:
Adopt a Rescued Rabbit Month

Dog Training Education Month

International Hoof Care Month

National Cat Health Month

Responsible Pet Owners Month

Pet Dental Health Month

Spay/Neuter Awareness Month (aka Beat the Heat Month) & Prevent a Litter Month
Week-Long Holidays for February:
Have a Heart for Chained Dogs Week – Feb. 7-14

National Justice for Animals Week – Feb. 21-28
Day-Long Holidays for February:
Week ONE:
National Golden Retreiver Day – Feb. 3

Annual Doggie Date Night – Feb. 3
Week TWO:
Week THREE:
Valentine's Day – Feb. 14

Pet Theft Awareness Day – Feb. 14

Mardi Gras – Feb. 16

International Tug-o-War Day – Feb. 19

Love Your Pet Day – Feb. 20
Week FOUR:
National Walk Your Dog Day – Feb. 22

International Dog Biscuit Appreciation Day – Feb. 23

World Spay Day – Feb. 23
All of these holidays will at least have curated images that you can choose to use for your own Social Media Campaigns.
The majority will have Marketing Libraries consisting of combinations of at least 3 of the following materials: Templates, Astro Offer Pairings, Website Banners, Lifestyle/Social Images, My Promotion Ideas, Social Media Ideas, and Lifestyle/Educational Blog Article to share.
Stay tuned as we start to build February's Promotion Guides. Publication of these guides and materials will begin before the end of January. We'll start with Week 1 and Month-Long in order to give you ample time to plan your communications and conversations with your customers.