It's an exciting challenge to start a pet store, but once you've started it, it's time to hit the ground running. However, the challenges that come with running a small business can leave you chasing your tail.
Here are some of the top challenges that come with being a small business in the pet store community and a few achievable methods to overcome each challenge.
The main challenge that faces any small business is marketing. Small businesses rely on their community knowing and choosing them over big box retailers, which means that customers need to know exactly who and where you are. 
Especially while starting out, marketing is everything. Having a clear marketing business plan with well-defined goals will help you grow your business at the pace that's right for you. But where to start?
Two main avenues for marketing are easily available to every small pet store: social media and physical location. While it can seem like all good marketing programs cost a significant amount of time and money, they don't have to. Here are some affordable suggestions for marketing in both physical and online mediums.
Your social media presence is how many of your modern customers will find you. That means a strong presence and personality is the key to getting your customers from simply 👍 liking a post to actually setting foot in your store.
This is the purpose of content marketing. By creating content like social media posts or website blogs, you provide avenues for your customers to get to know you and your store like you're old friends. The content you produce is a sign of your brand's personality, and brand personality is what builds trust, loyalty, and even lasting friendships with your customers.
Some good ideas for content marketing include posting reels or pics of you assembling a raw meal for your pet, discussing common myths about dog and cat nutrition, or talking about one of your Astro Offers for the month. You could also share blog posts about pet behavior and holistic health. Of course, content marketing works best when it comes from a place of passion, so this is a great space to share what you've always wished everyone to know about taking care of our furry friends.
You don't always have to post every day, but having a regular social media posting schedule will help you stay consistent and relevant. Things like Offers, local events, pet care advice, and even Q&A can make great social media posts and increase your follower engagement.
'Sharing The Love' is Meant to be Shared! 
Attention, Astro retailers participating in our 'Sharing The Love' platform! We have an important message for you regarding the power of social media engagement. When a family and their newly adopted pet visits your store to claim their Adoption Rewards Bundle, it creates an incredible opportunity for social media gold. By sharing a heartwarming picture of the adorable pet alongside their new loving family, you are inviting a wave of engagement that can make a significant impact. We encourage you to tag Astro Loyalty [@AstroLoyalty on Instagram and @AstroPetLoyalty on Facebook], the rescue organization from which the pet was adopted, and even highlight some of the brands chosen by the pet owner for their Bundle. These feel-good posts resonate with people, and spreading happiness on social media is more important than ever. Prepare to witness a surge of likes, comments, and shares as you create a positive ripple effect in the online world. Let's celebrate the joy of adoption together!
Your store's physical location is more than just where you keep your products. It's also a great space for in-person marketing and events. Of course, your store should have clear signage and decoration inside and outside, but you can utilize your space in a variety of ways to get customers inside.
Hosting events, either in collaboration with other organizations or on your own, is a great way to connect with your community and start building personal relationships. Hosting an adoption day in-store lets you connect with new pet parents, as well as setting you up for success by having first-time pet owner products and advice close to hand. There's no better way to stick in a customer's mind than by helping them load their FREE 'Sharing The Love' Adoption Rewards Bundle into the car while they carry their newly adopted furry friend.
These events don't have to be as major as an adoption day or a dog breed meetup, however. Even acting as a donation site for a charity event will get people into your store when they come by to drop off donations. Showing your community that you value generosity and giving back will prove that you're a small business that cares.
Once you have customers in your store, the next biggest challenge is getting them to keep coming back. Small businesses live on repeat customers, so retention should be one of your highest customer-related priorities. After all, big box retailers ship products all over the world. Your client pool is local and has a limited number of potential customers, so you want to make the most of the community you have.
This is where client retention strategies come into play. Earning a customer's loyalty is all about showing them that you're the best possible choice for them and their pet. Making a good impression can be as simple as emphasizing your local and American pet products, but there are two major strategies to guarantee customer loyalty: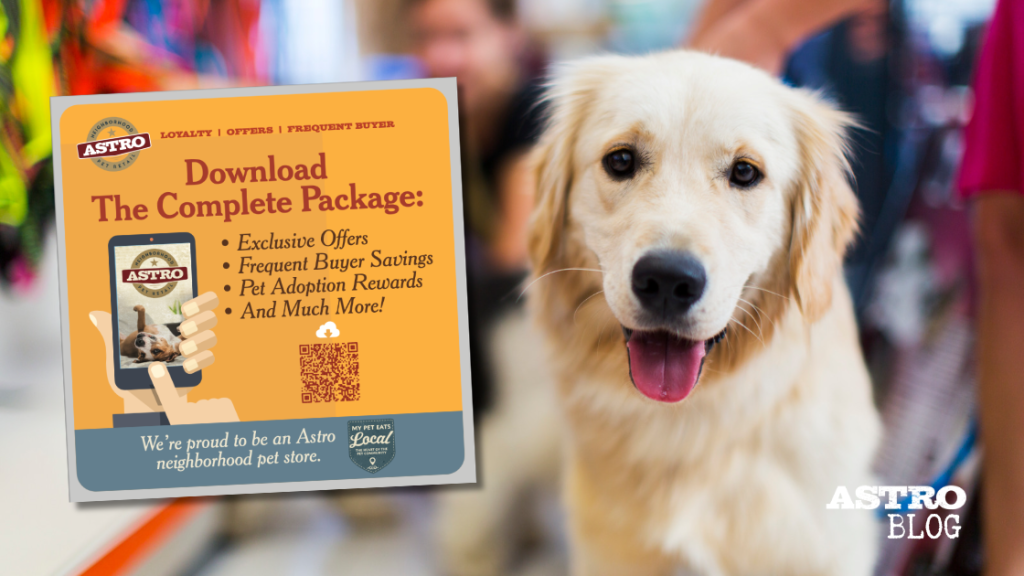 One of the best ways to keep customers coming back is to have a valuable rewards program. People like to support small businesses, but they love to save money and get the most value for the products and services they purchase
This is where Astro Frequent Buyer and Astro Offers can help. Running a rewards program on your own can be a complicated process of tracking coupons, punching cards, and tallying points. Astro does all of that for you, and it saves money for your small business as well. The frequent buyers and offers provided are funded by the brand itself, not your store, but you still get to offer your customers great deals. Astro Offers and Loyalty Cards integrate perfectly with the Astro Mobile app and some of the top POS systems in the industry. Astro even provides you with printable shelf talkers for Offers and Frequent Buyer, so your customers don't miss a thing!
Eliminating paper clutter and saving money for yourself and your customers equals a win-win situation that gets customers returning again and again.
Another important element of customer retention is customer service. Small businesses are built on relationships with their community, so your customer's opinions about your store matter. 
If a customer is charmed by your engaging social media posts about how to care for rowdy puppies, but is frustrated with their experience in-store, they won't come back. If long-time pet owners come to your store for a dog breed meet-up, they'll only switch from their long-time digital big box orders if you can offer them a personal experience they can't elsewhere.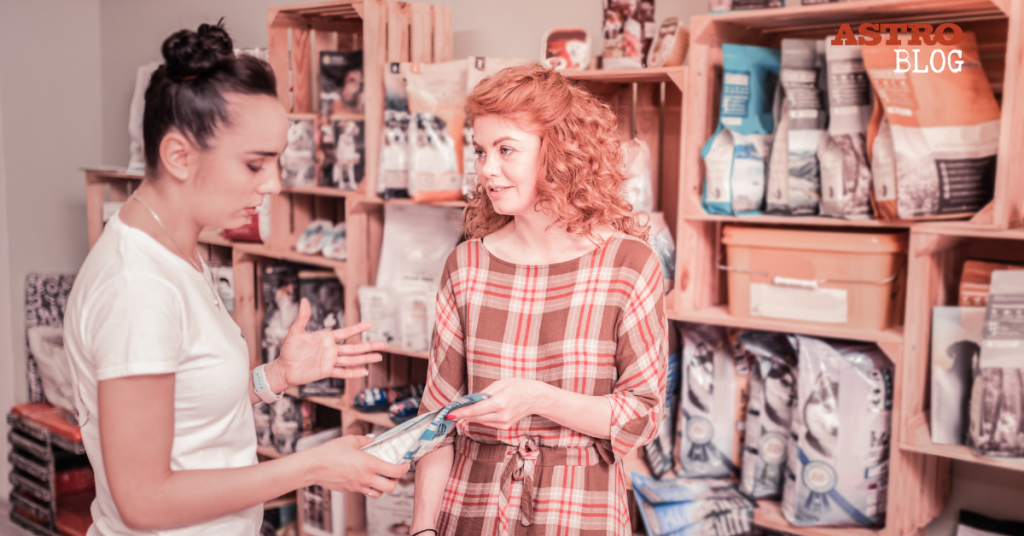 This means that your small business should strive to provide friendly and helpful customer service. No matter the size of your small business's staff, focus on the things you have in common with each customer: you are animal lovers who care about helping pets. With that shared goal, you should be able to make sure every customer interaction ends with the customer feeling confident that your local pet store business is one worth coming back to.
Conquer Your Challenges With Astro Loyalty
For more help with addressing each of the challenges a small business pet store can face, reach out to Astro Loyalty today. Astro Loyalty's Astro Marketing customized services provide you with marketing content designed specifically for business owners who open a pet store. If running email marketing campaigns or managing three different social media accounts seems overwhelming, Astro Marketing can provide you with marketing campaigns in any and all formats that you need.
With everything from brand media libraries to step-by-step tutorials, set up a fifteen-minute appointment with Astro Marketing today to see how we can meet your small business pet store's needs.