Animal lovers with a knack for business may consider starting their own pet store! But, starting a business takes patience and motivation, especially in the pet industry. The enough of huge chain pet stores might make the idea of starting your own intimidating. With proper planning, it's possible to make a successful local pet store.
Last year, U.S. consumers spent almost $140 billion on pet products alone, and that number will continue to rise in 2023. While chain pet stores tend to dominate, indie pet retail still has a place. Small pet retailers offer customers a unique experience. The first step to finding success with your own indie store is knowing how to start. We've compiled some helpful tips for you to keep in mind as you grow your business from an idea to a reality. We'll cover how to set up your business, find your niche, and make it stand out.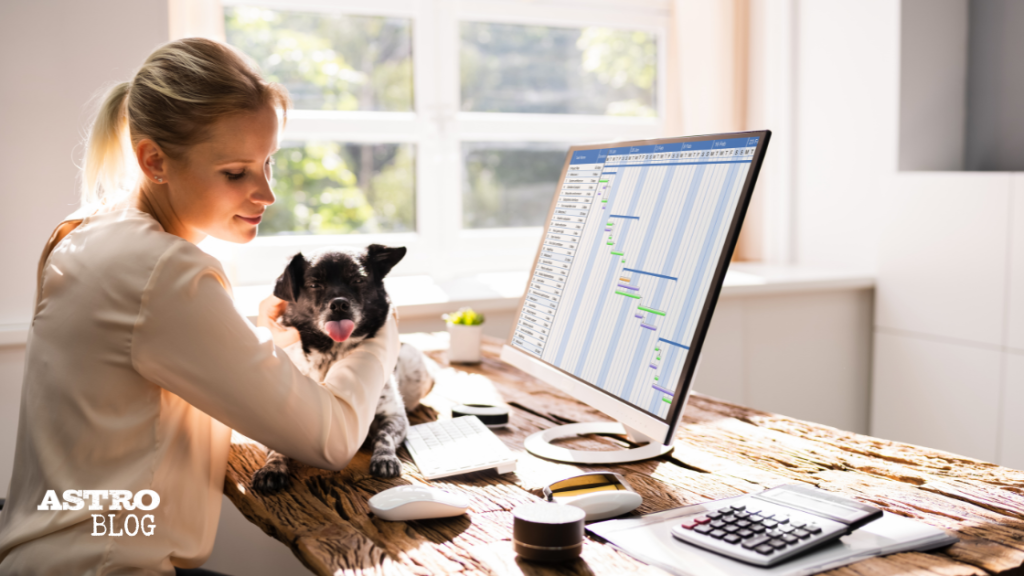 Before you can even open a pet store, there are plenty of tasks to take care of first. You'll need to form a business plan and make key financial decisions. Then, you must complete all the legal steps to register a business. But first, you'll need a name.
Let's take a closer look at the process.
This should be the first thing you consider when starting your pet store. The name appears on the front of your physical store, your website, and your ads. It should be something that represents you and your business's identity.
The best names are punchy and memorable. Take your time to think of a great store name. If you feel like you're stuck, try using an automatic business name generator. This can help get your creative juices flowing. Although their results are random, you might discover a starting point for a great name there.
You'll need a few legal licenses and permits for your pet retail store. First, to take care of the general business registrations. These include a business license, sales tax ID, and an Employer Identification Number. The U.S. also has laws on animal welfare that require pet stores to have a license. All pet stores that sell pets need a license from The Animal Welfare Act. Even if you don't you'll need certification from the USDA Animal and Plant Health Inspection Service.
After you've gotten your permits and licenses out of the way, the next step is forming a business plan. Think of this as a road map for how you will structure and run your store's finances. There are two main types of business plans, lean and traditional.
A traditional business plan accounts for many details. A lean plan covers only the high-level key points in your plan. Generally, a lender requires a traditional business plan. But,  a lean business plan helps you plan your long-term goals. Choose the type of plan that fits your needs best. For more resources about business plans, use the Small Business Association (SBA). They provide business plan templates, break down key sections, and show sample plans.
Find Funding for Your Pet Store​
Starting a small business is expensive. Chances are, your personal savings won't cover all the costs. You'll need to find other sources of funding. There are three different ways to go about this:
If you plan to offer spay/neutering clinics or pet vaccinations, look into a commercial or non-profit grant.

Connect with investors and share your vision for your business to get some seed money. Look for potential investors who've shown a love of animals or small businesses.

Another common way small businesses receive funding is through loans. To get a loan, make sure you have strong credit and 15-25% of your start-up costs to qualify.
It's important to give the location of your pet store careful thought and research. Consider whether there are big chain stores already near your location. Having your store too close to other pet shops may create unneeded competition. Check out different areas in your city (both in person and online) to scope out locations.  Try to place your store near places pet lovers. Ideal locations include spots near veterinary clinics, dog parks, or animal rescues.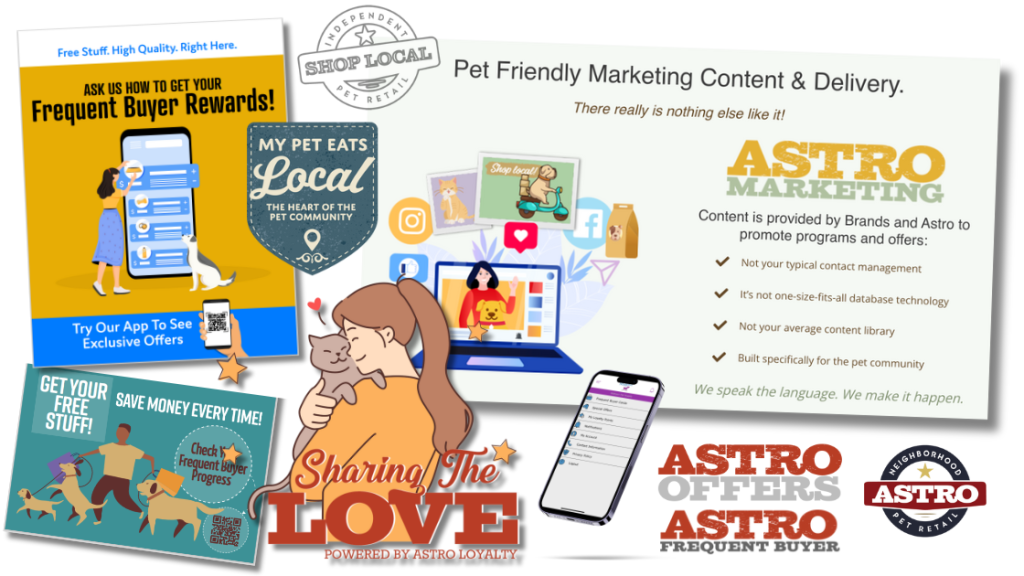 You want your store to be like catnip for animal lovers. That means you'll need top-notch marketing to get your business on the map. Here are some of our most important pet store marketing tips!
Leverage Your Local Touch
As a small pet store, you're more relatable and approachable than a corporate brand. Small, local businesses can get closer to communities than chain stores. You can bring more of a personal touch to your marketing by leveraging your local community.
For example, partner with pet charities to show you care. Reward pet adoption via Astro's 'Sharing the Love' platform. Collaborate with other small businesses in the area for a special promotion.  Smaller stores can more easily reach out to other pet owners. Offer your customers customized services, like one-on-one training classes or pet care workshops.
Try Low-Cost Tricks and Techniques​
Many pet owners care about supporting local and small businesses. But they can't support you unless you put yourself out there. As a small business, you may not have the budget of a large pet store company. There are still low or no-cost ways to promote your products and services.
Social media platforms, including Twitter, Instagram, TikTok, and Facebook, are all useful channels for establishing a brand presence. Business cards are also a cheap way to spread the word about your store. Local cafes may offer designated boards for local business owners to post their business cards. Additionally, leave simple ads around high-traffic areas, like community centers or vet clinics.
Use a Pet Marketing Suite​
Tackling every aspect of your store's marketing may sound overwhelming. If so, a specialized marketing platform that is integrated with your loyalty programs might be for you. Astro Marketing offers the digital marketing tools you need for success. Turn to us for local pet store marketing.
The Astro Marketing Suite offers:
A Recipient List Generator so you can create targeted communications based on your customers' visits, pet info, and purchases.

Ready-to-go multi-media templates with smart elements that integrate with your 'Sharing the Love' Adoption Rewards & Astro Offers.

Send Campaigns via Email, App Notification, SMS Text, or post directly to Facebook or Instagram!

A full library of assets fed by Astro's Marketing Team and all your favorite pet brands.

And more!
We already help many other small pet stores, and we're ready to help you! We're the only marketing platform made for independent pet stores just like yours. Let us take care of your marketing so you can focus your attention on running a successful pet shop.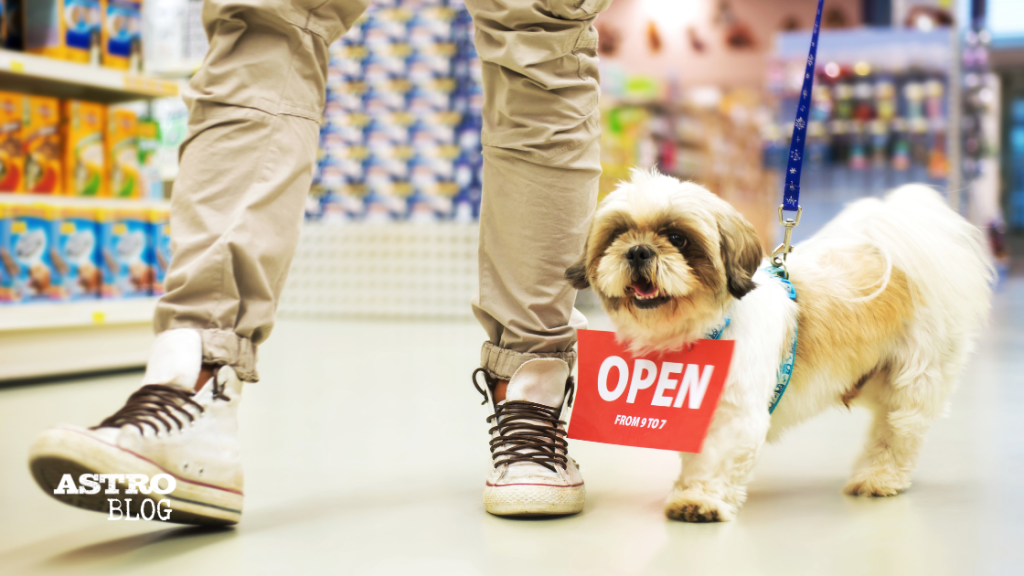 It's one thing to plan and market your business — actually running your new business is a whole new can of worms. We've outlined a few pointers to keep in mind as you start your new store.
It's tough to beat the huge selection and low prices of big box pet chains. However, you can give your store an edge over the big guys by stocking unique and specialized products. Sell pet supplies from other small brands that people won't find in chain stores. Consider unique items like organic pet food, artisan treats, and hand-made toys. Your product selection may also depend on the kind of store you operate. Maybe you specialize in holistic pet care products, locally sourced pet products, or offer unique services like a self serve dog-wash. Offering high-quality, one-of-a-kind products sets you apart from other pet retailers.
Offer Amazing Customer Service
The quality of customer service could make or break a small business. As an independent small store, you must build positive relationships with customers. People often make snap judgments. So, if they experience poor customer service on their first visit, they may not return.
Your business should be as much about pet owners as it is about their pets. Give them a friendly, helpful experience in-store, so they're more likely to come back. One effective way to provide great customer service is to offer returning customers unique deals and discounts.
Invest in a Frequent Buyer Program
Treat pet owners (and their pets) with extra freebies and deals on the pet food and supplies they love. Frequent Buyer programs help you to give customers deals on the items they already love! The benefits of frequent buyer programs go both ways. Customers love them for the savings. But businesses love the increased customer retention and engagement they get in return. It's a simple process! The customer makes a qualifying purchase; the data is added to a loyalty card; when the card is filled, the pet owner can redeem it for a reward; the data is then sent to your distributor automatically. Then, you get reimbursed for the reward given!
Astro Loyalty's Frequent Buyer Program makes the whole process easy and automatic. Plus, we exclusively serve small independent pet stores. Check out the brands below and more via Brands on Astro!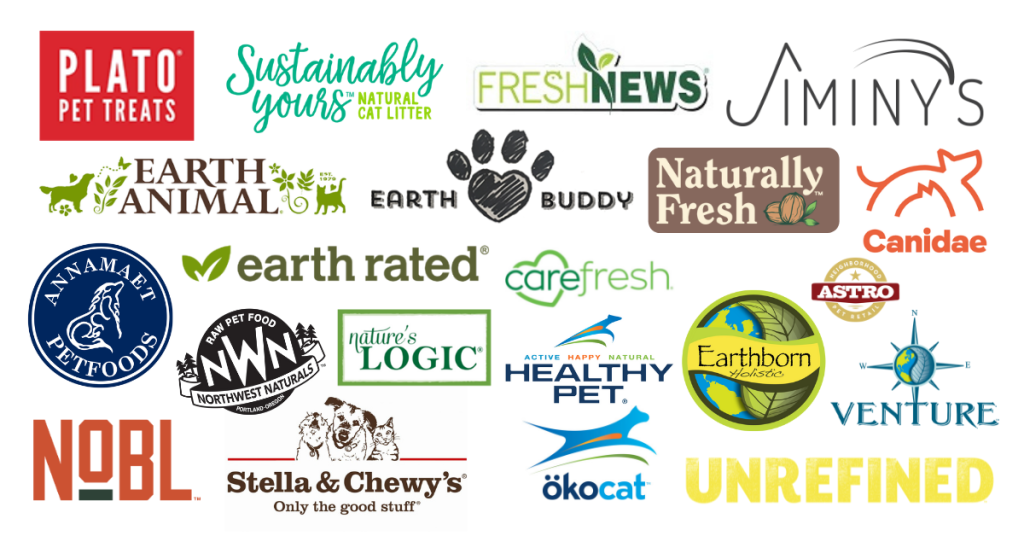 Hit the Ground Running With Astro Loyalty & Our Neighborhood of Independent Pet Shops
We know better than anyone how difficult it can be to start and open a small business. Astro Loyalty helps small businesses thrive with our top-dog marketing tools. We also get how important it is to build a loyal customer base. That's why we created a Loyalty Platform exclusive to small pet retailers that include brand-sponsored Frequent Buyers, Astro Offers, Pet Adoption Rewards, and more! Start your business off on the right paw by partnering with Astro Loyalty. Need more information? Learn more about how we can help grow your indie pet store by booking a Marketing Suite demo with us today or signing up for Astro's 15-day trial.
There are thousands of independently owned pet retailers across the USA & Canada on Astro. Our community is successful due to the altruism and compassion of our members. We regularly witness established pet business owners go out of their way to help newbie retailers. This happens via Facebook comments and in the chat during our webinars. Astro Retailers also routinely offer up guidance and their own personal experiences to their new peers at trade shows (like the scene above). There is no such thing as gatekeeping when it comes to Astro Retailers. Every single one of them is a rockstar!