Howdy, y'all! How's it hanging? We have lots to talk about. March was a wild month- so there's a lot to recap. And we have tons to look forward to this month. So let's get started!
This Edition Includes:
New Astro Frequent Buyer Programs in the USA & Canada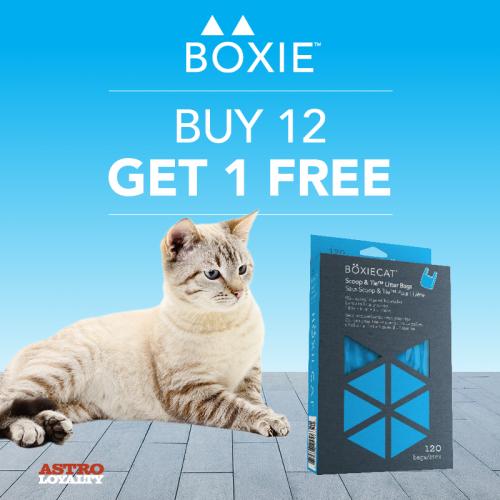 Boxiecat
recently launched a new Astro Frequent Buyer Program for their Cat Litter Bags. This program is available to all Astro Retailers in the USA & Canada. "
Conveniently contain your litter box waste in Boxiecat's leak-proof bag! These bags are unscented, have handles to tie, and are large enough to fit any scoop
."
Horizon Pet Nutrition
was a busy little bee last month and launched three new Astro Frequent Buyer Programs for their
Amicus
,
Legacy
, and
Pulsar
lines. All three are available to all Astro Retailers in the USA & Canada. Check these babies out! "
A commitment to making foods the right way. Local sourcing, self-manufacturing, purposeful and natural ingredients with a focus on affordability.
"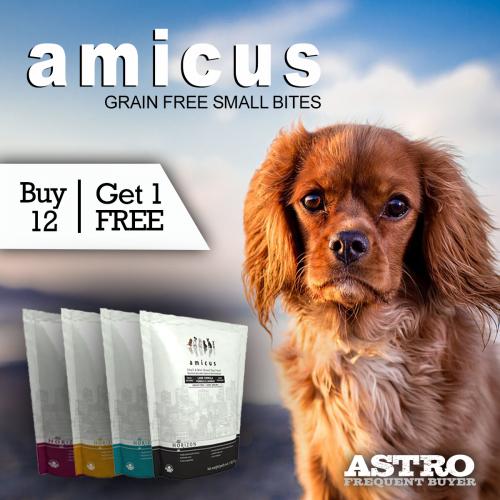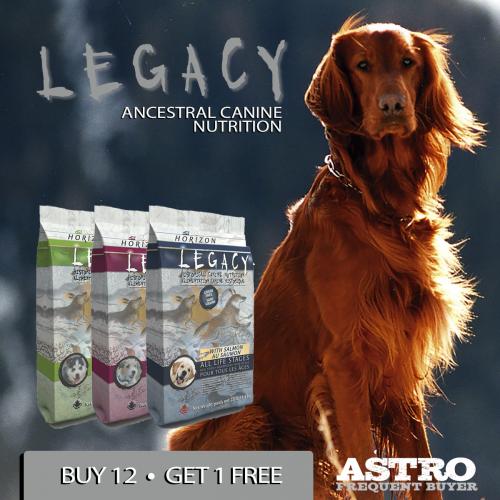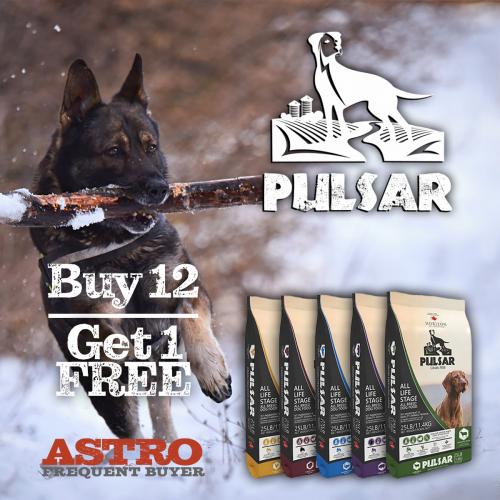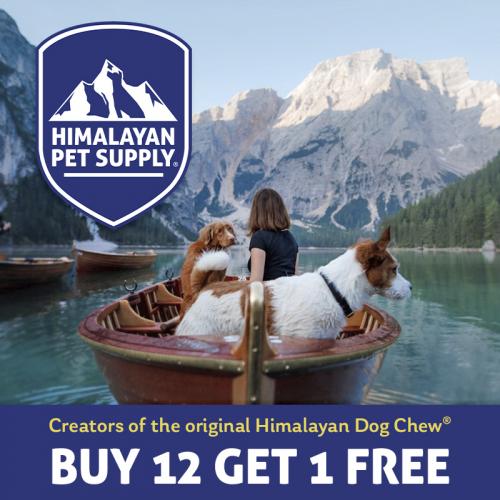 Primal Pet Group
launched a new Astro Frequent Buyer Program for their
Himalayan Pet Supply
line of chews. This program is available to all Astro Retailers in the USA & Canada. "
Creators of the original Himalayan Dog Chew. Sustainably and ethically sourced, supporting World Fair Trade. This program includes original Himalayan Dog Chew, Churro, Happy Teeth, Yacky Charms, and Yacky Puffs.
"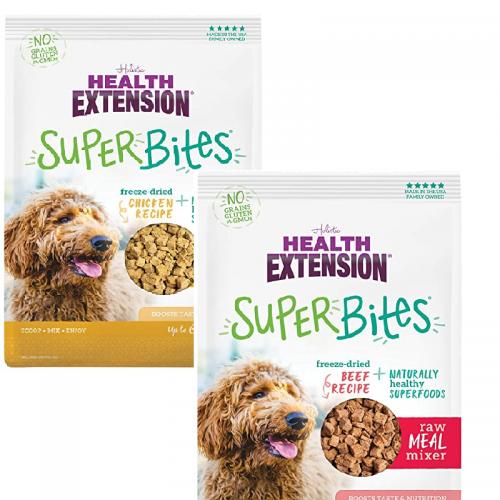 Health Extension
just launched a new Astro Frequent Buyer Program in the USA for their line of Super Bites Freeze-Dried mixers. "
Health Extension SuperBites are the perfect meal mixer to boost your pet's protein and flavor. Just shake these bite-sized nuggets on top of their food to add super nutrition. This grain-free recipe is crafted with raw, protein-packed freeze-dried meat to lock in nutritional value and taste. Along with a special blend of antioxidant-rich superfoods like coconut oil, sweet potato, turmeric, and organic apple cider vinegar you won't find anywhere else
."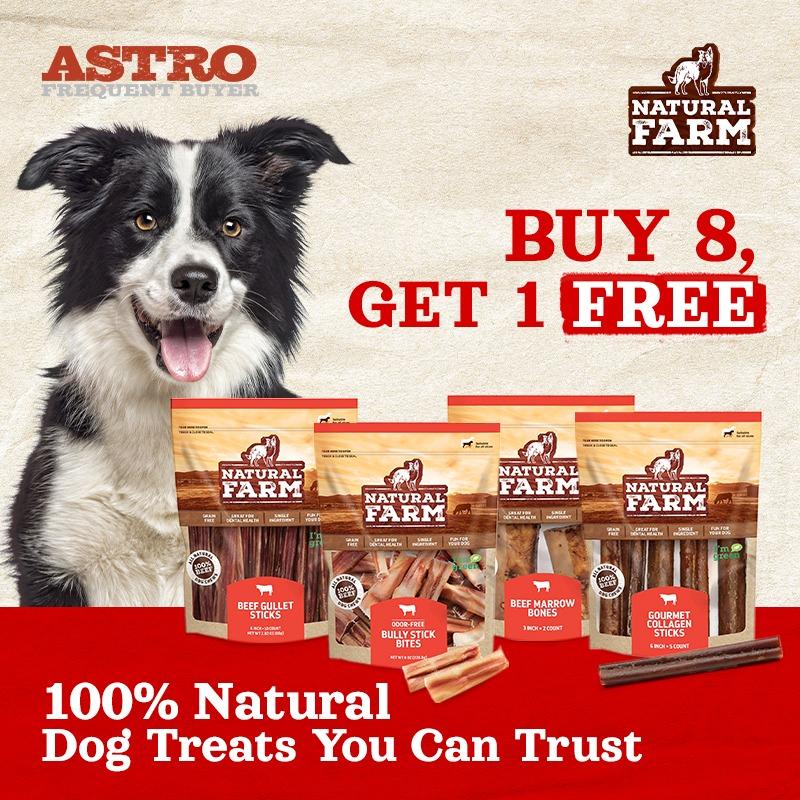 Natural Farm and Pet
recently joined Astro and now have their own Astro Frequent Buyer Program available to all Astro Retailers in the USA. "
The mission of Natural Farm is to provide all-natural dog treats & chews that dog owners can trust. All of our treats provide nutritional benefits and are free from additives, chemicals, and GMOs
."
Several New Brands join Astro Offers!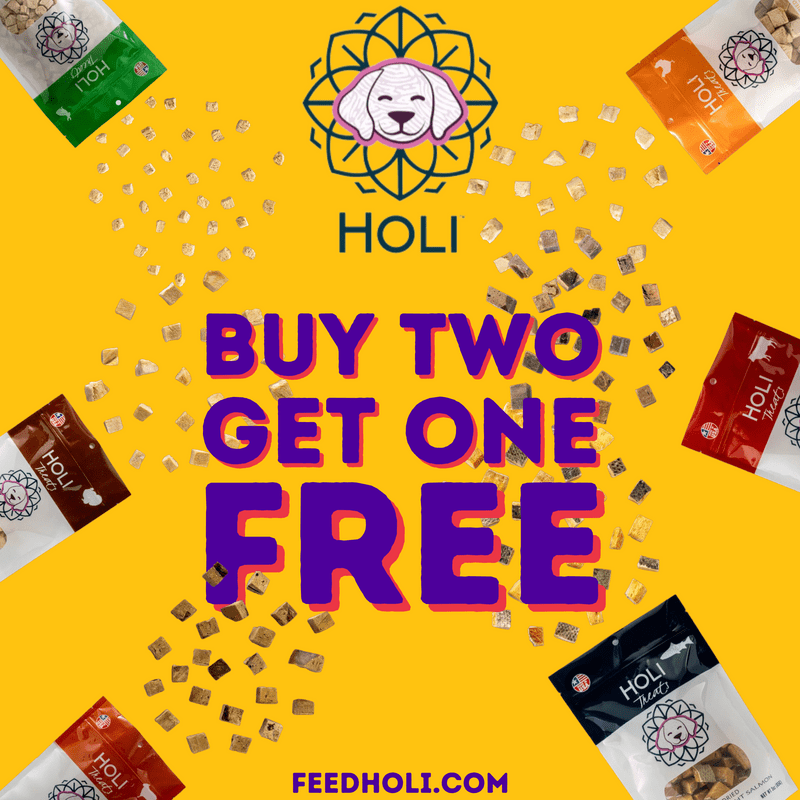 HOLI
just joined Astro and has a new Astro Offer for May available for all Astro Retailers in the USA to enroll in now.
HOLI | Buy 2, Get 1 FREE on Select Treats
"
HOLI Treats are 100% All-Natural, single-ingredient freeze-dried meats. Made in the USA only
."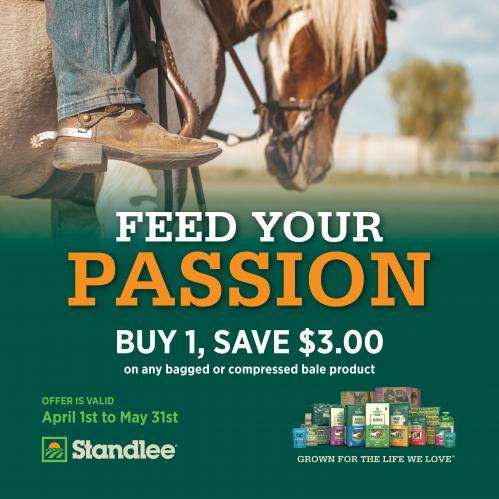 Standlee Forage
has an Astro Offer for the month of April now available to all Astro Retailers in the USA & Canada.
Standlee | $3.00 OFF Equine and Small Animal Line
"
Standlee provides a variety of forage types in a wide range of product formats, including pellets, cubes, chopped, and bales for your beloved equine or small animal companion
." They also have an
Astro Frequent Buyer Program
!
Astro Offers for April & Beyond!
Take a sec and peruse these Astro Offers to make certain you haven't missed any.



While you're at it, you might as well check out our
Brands On Astro Flyer
to see all available and upcoming Offers.
New Brands to Look Out For
These brands have joined Astro Loyalty and have plans to launch new loyalty programs very soon! Keep your eyes peeled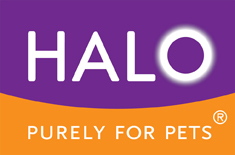 Global Pet Expo 2022 Recap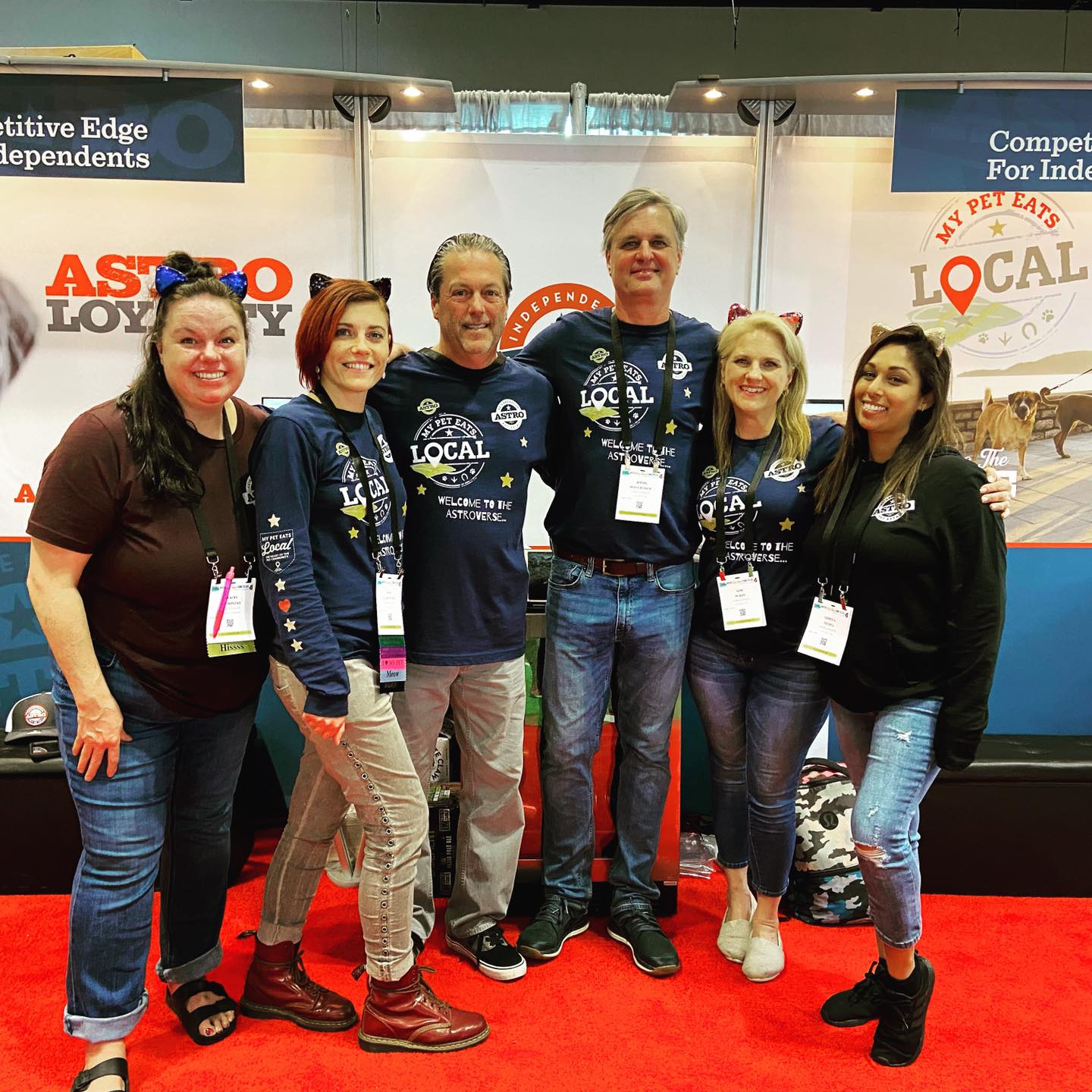 We had a blast at Global this year! Thank you to everyone who stopped by for a chat and a hat (and a tote ). We always look forward to any opportunity to meet and talk with our neighbors in person. Especially when there is something as exciting as
My Pet Eats Local
to announce!
My Pet Eats Local
My Pet Eats Local
is our latest 'pet project'. Currently, it is a mission statement and soon it will grow into a full collaboration between Astro Neighborhood Retailers, the Rescue Community, and the Specialty Brands who support Shopping Local.
Our mission is simple.
We want to give every pet owner a road map to your front door.
We want to build a community of pet owners who are proud to support their neighborhood pet specialty stores.
We want to support pet adoption at every level- from helping to build strong pet households, to helping to fund rescue and sheltering efforts, and finally by celebrating Adoption Days with Sharing The Love.
We would love your feedback related to
My Pet Eats Local.
We currently have a
Beta site
up for you to check out. As well as a
Facebook
and
Instagram
page for you to follow and hopefully contribute to. So far we've been having fun
sharing posts and stories showcasing Astro Retailers
at their finest- spreading the word & their knowledge on pet health and nutrition topics. Follow us so we can see your masters at work!
April Pet Holiday Marketing Guide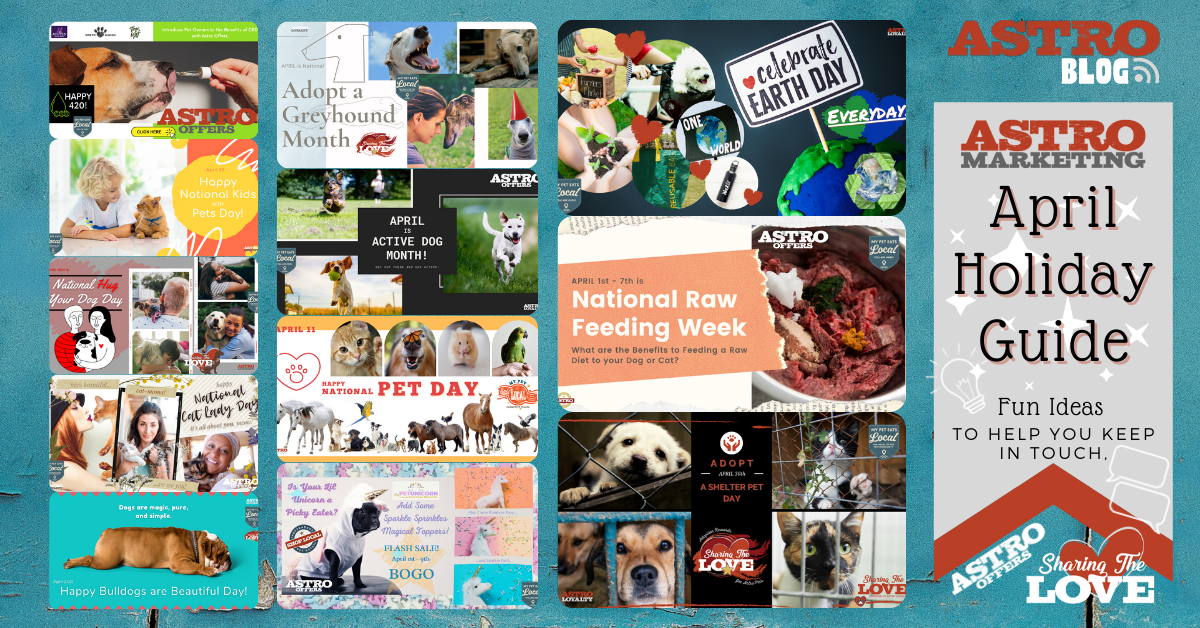 April is full of pet-themed holidays! The biggest include
National Raw Feeding Week
, going on now!
April 11: National Pet Day
,  
April 22: Earth Day
, and
April 30: Adopt a Shelter Pet Day
. There's a bunch more,
click here
to check 'em all out!
New AstroBlog Article to Share
Speaking of
National Raw Feeding Week
, we have a new article on the topic which you are welcome to share with your customers as an educational and conversation tool.
Benefits of Feeding Raw to Your Pet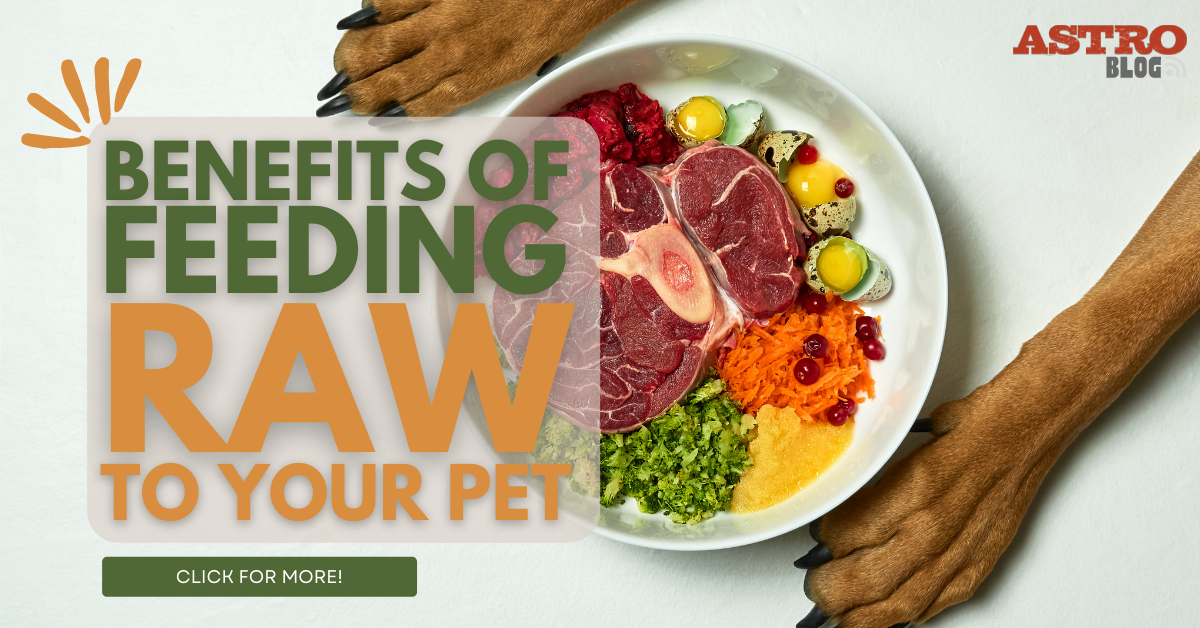 Whether you associate April with the beginning of spring, the month of Easter, or simply the start of a warmer season, April is a joyous time. 
What you might not know is that the first week of April is also National Raw Feeding Week, a pet holiday that encourages pet owners to incorporate raw foods into their furry friend's diet. There are various benefits to feeding a raw diet to your pet that can boost their health.
Though, you don't have to make your pet's diet 100% raw. A little can go a long way! Here are some of the main benefits of feeding a raw diet to your pet, as well as ways that you can incorporate raw food into your pet's meal times. 
Click here to keep reading…
Astro Marketing Webinars for April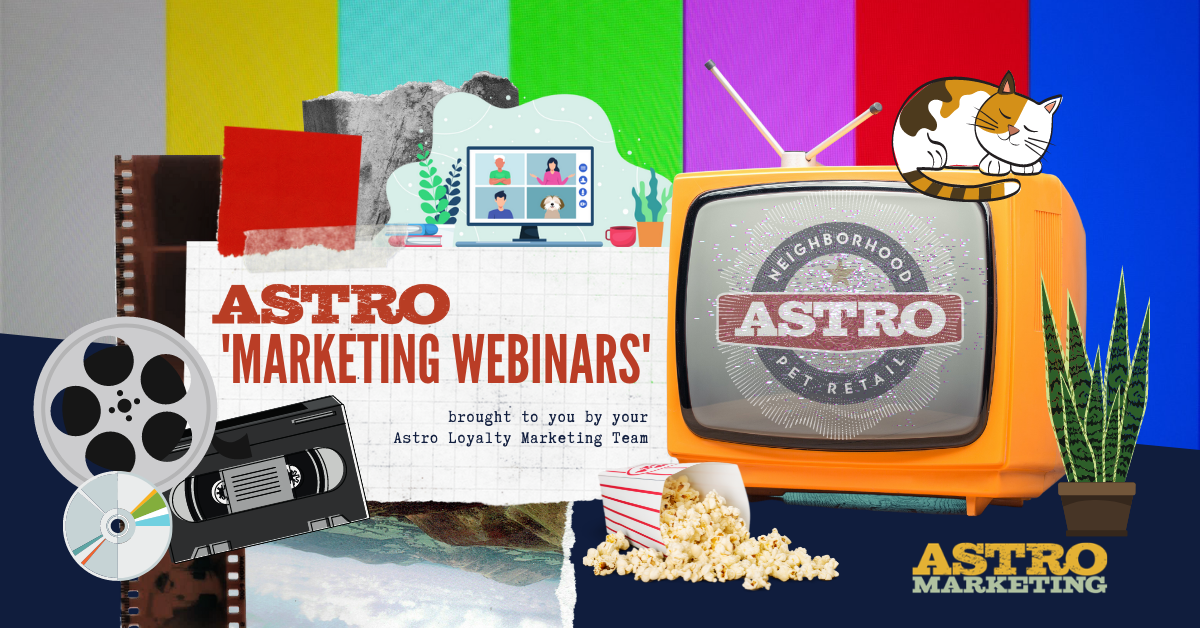 Last month we talked about "
What's The Deal with Astro Coupons
" which is now available as an
Astro On-Demand Webinar
. This month we are going over the ways in which you can remind your customers when they have a Pending Coupon available for them to redeem at your store.
Astro Coupons
are exclusive deals that are sent directly to specific pet owners who qualify – either they redeemed an Adoption Bundle so are sent
Bounce Back Coupons
, or their prior purchases caused them to be chosen by one of your Brands to receive a special
Brand Sponsored Coupon
. These coupons can only be redeemed via your Astro Account at your store. For me, it's a real bummer when I find out about a deal after the fact. Astro has added two new features to our platform to help you, help your customers, fight bummers. The
Astro Mobile App
now has a new menu for
Astro Coupons
which will show your customers the details of any coupons they currently qualify for. Astro Retailers subscribed to the Marketing Suite have an additional feature available to them- now you can send
Astro Coupon Quick Campaigns
to your customers who have yet to redeem an active coupon. Our
webinar
will go over these new features and how to use them to politely poke your customers so they don't miss out on their well-earned shop-local savings.
How to Send Astro Coupon Reminders via the Astro Marketing Suite
Tuesday, April 5th, at 1:00 PM EST
Click here to register
. All registrants will be emailed a recording after we have concluded the live webinar. This recording will include the contents of the Q&A chat. A recording (minus the Q&A chat) will be posted to our
YouTube Channel
.
Top 5 Things You Need to Know 'Aboot' Astro
Wednesday, April 20th, at 3:00 PM EST
Key in the UPC
Audit Offers
Combine Pet Owner Accounts (dups or same household)
FB Participation Report
Shelf Talkers (FB & Offers)
BONUS! Why Frequent Buyer is actually important. Hosted by our very own Astronauts Stacey Desnoyers & Kim Purdy.
More details & link to register.
All who register prior to the start of the live event will be emailed a recording of the webinar once the live has ended. A recording will also be posted to our
YouTube Channel.
Vendor Success Webinar Series | April Episode – Astro Offers Best Practices
In this webinar, we will go over the top things to keep in mind when creating, marketing, and fulfilling your Astro Offer.
Create the ideal Astro Offer Image to get the most traction and social views
Advertise your Astro Offers to pet owners without violating the Astro data policy.
Astro Offers are exclusive to Astro Loyalty and should only be redeemed at Astro Member Locations.
Astro's strict policies related to the participation, redemption, and crediting of Astro Offers protect both our Brand Partners and Retailers.
Hosted by Astro's Director of Offers- Shreya Mehta, and Astro's Marketing Director- Kat Carbonaro.
All registrants, regardless of attendance, will be emailed a recording of the live event once the webinar has concluded. This recording will include the Q&A chat.