Welcome to December! As 2021 comes to a close we are ramping it up with some new Frequent Buyer Programs and a new addition to our Sharing The Love platform – all created by some of your favorite brands. This and more in your latest edition of Astro Fresh News!
This Edition Includes:
Diggin' Your Dog Launches a NEW Frequent Buyer Program for their Stash Bubba Horns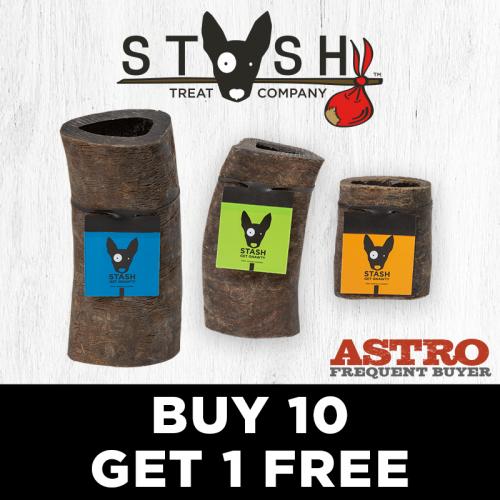 Stash | Official Buba Horn TREATS Frequent Buyer Program – Buy 10, Get 1 FREE
Dog Buba Horn Treat Frequent Buyer Program. Buy 10 Buba Horn Treats and Receive One Free. The Free Horn will be less than or equal to the 10 qualifying purchases.
Available in the USA.
Check out this program and the rest of what
Diggin' Your Dog
has to offer on Astro
here
.
Super Snouts Launches a New Buy 12 Program for their Supplements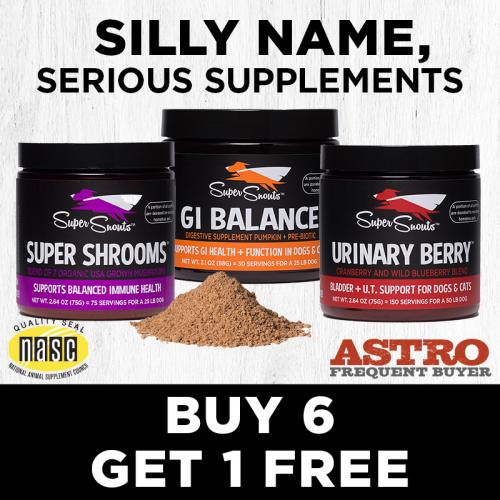 Super Snouts | Official SUPPLEMENT Frequent Buyer Program – Buy 6, Get 1 FREE
Dog Supplement Frequent Buyer Program. Buy 6 Super Snouts Supplements and Get 1 Free. The Free Supplement will be Less than or Equal to the least valued item purchased.
Available in the USA
. Check out this program and the rest of what
Super Snouts
has to offer on Astro
here
.
Merrick is Now Sharing The Love!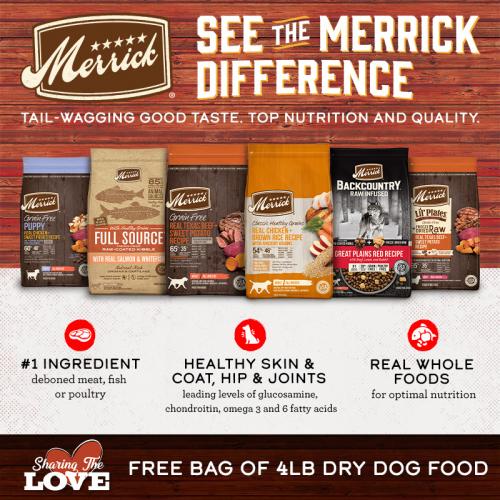 Merrick | Adoption Dog Dry Food Program
New Dog Parents have the option to choose a Small Bag of Merrick Kibble as the Single Kibble portion of their New Dog Adoption Bundle. Customers can choose a 4lb bag. Available only on select formulas and sizes. The New Pet Owner's Email Address is required. Participating New Pet Owners will be sent a Bounce Back Coupon from Astro on behalf of Merrick inviting them to return to your store for an additional reward.
Available in the USA
.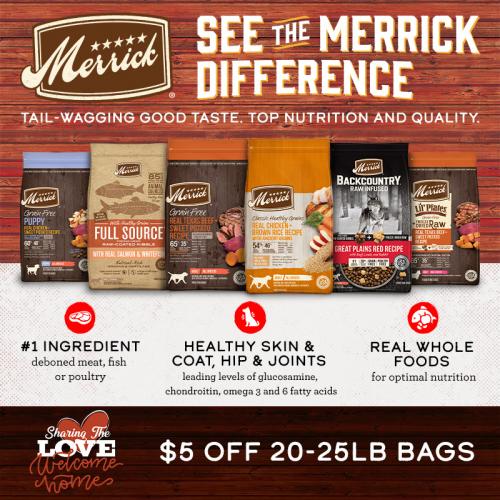 Merrick | Adoption Bounce Back Coupon
New Pet Owners who have chosen a Merrick product as the kibble portion of their New Pet Adoption Bundle are eligible to redeem this Bounce Back Coupon for $5 OFF a large 20lb-25lb Merrick kibble bag on the
next
visit to your store.
Available in the USA
. Find out more about our
Sharing The Love platform here
.
Astro Retailers Set a New Record for Astro Offers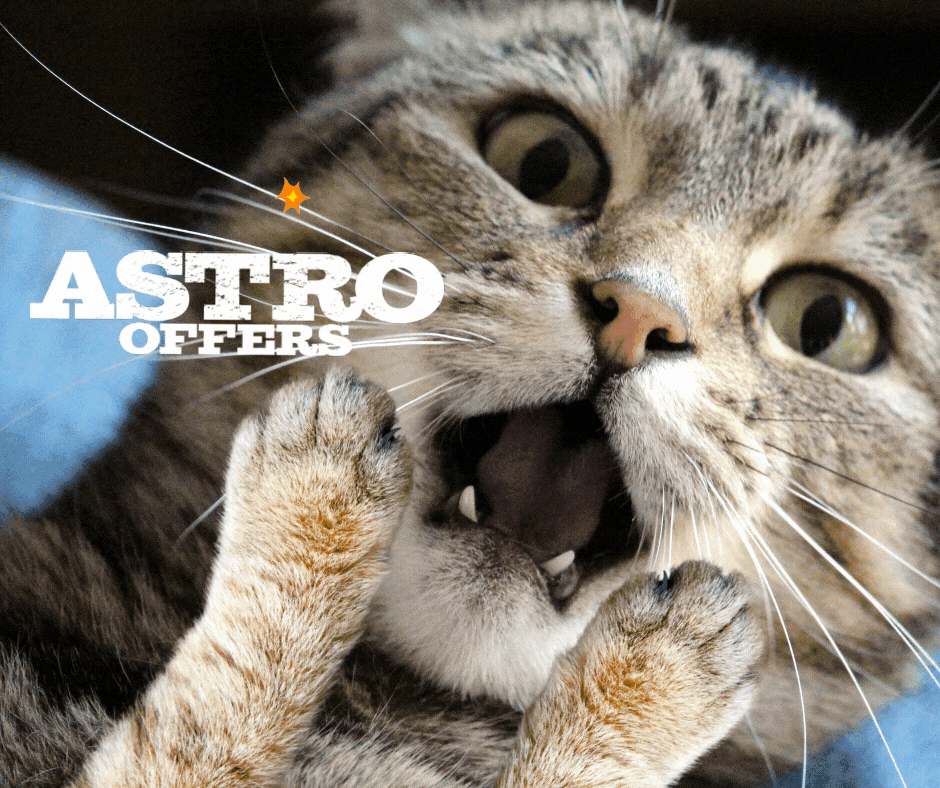 Our greatest goal at Astro is to entice pet owners to shop locally with our neighborhood retailers.
Astro Offers
originated out of this goal. We are pleased to say that our brand partners helped to contribute to a record year for Astro Offers – and excited to say that our retailers came out as the big winners! Lately, we've been reporting to you that our participating retailers have broken new redemption records for Offers month after month. In November, we observed a more extraordinary redemption record during Black Friday weekend alone than we've seen during former record-breaking months! So what does this mean for our retailers? For one, it means our retailers saw an influx of customers visiting their stores to benefit from these deals. We are so stoked that pet owners responded positively to the campaigns our retailers sent via our Marketing Suite, and they chose to shop locally! Secondly, customers chose to buy into these Offers – purchasing both items they were familiar with along with new products they had never tried before. This is the gift that keeps on giving. Pet owners who are introduced to a new product via an Offer are more likely to continue to purchase that product for months after, even if it is no longer on special. Finally, retailers were able to see incredible returns on a free platform already included with their Astro subscription! That's right, Astro Offers is a free platform for our retailers. Our brand partners provide the deals. Astro delivers the program, including automated reporting, printable shelf-talkers, and passive marketing with the Astro Mobile App and My Astro Webpage. All our retailers need to do is enroll and redeem! It's that simple. Are you new to Offers and want to learn more? Join us on Thursdays at 2:00 PM EST for a quick
Webinar and Q&A
on the topic. Or you can check out a past webinar recording on our
YouTube Channel
. We also have an extensive section of our
Knowledge Base
dedicated to navigating and utilizing Offers. Here's an idea for a New Year's Resolution you can stick to! Now is the time to start enrolling in
Astro Offers.
Try one, try two – dip your toe into that water! You got this!


December Pet Holiday Guide & New Materials in the Astro Marketing Suite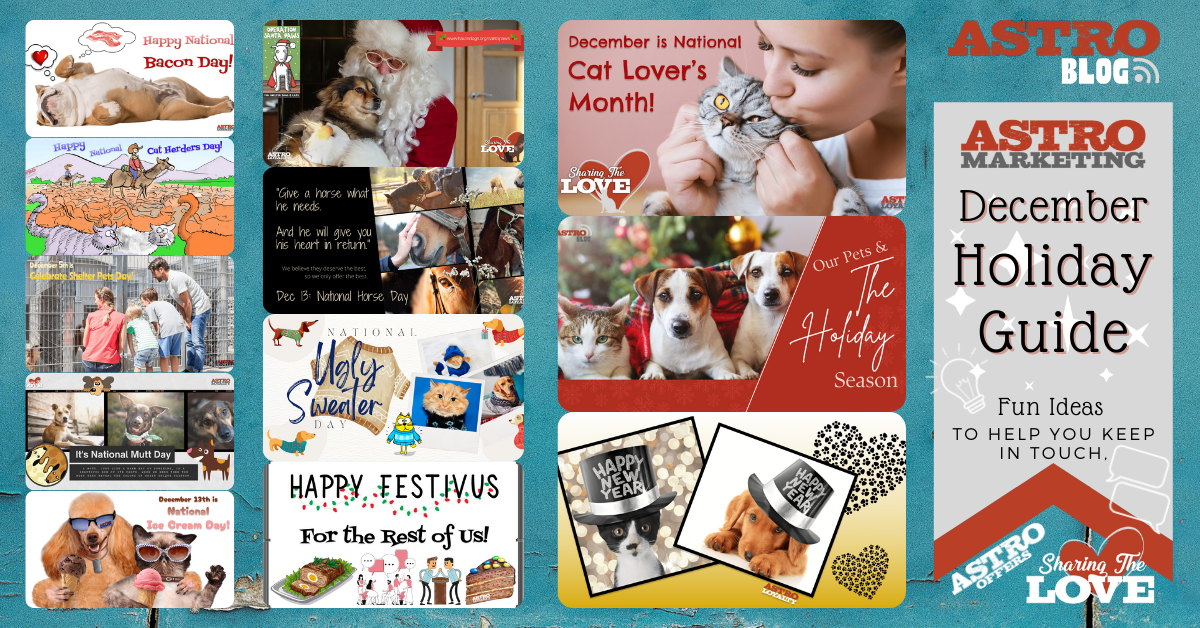 Your Astro Marketing Team has been tinkering away like a bunch of elves in Santa's workshop to create new and enticing holiday content for your
Marketing Suite.
Check out your
Template Library
and
Image Library
to view the latest editions, and peruse our latest edition of our
Pet Holiday Guide
in our Astro Blog.
Marketing Suite Webinars for December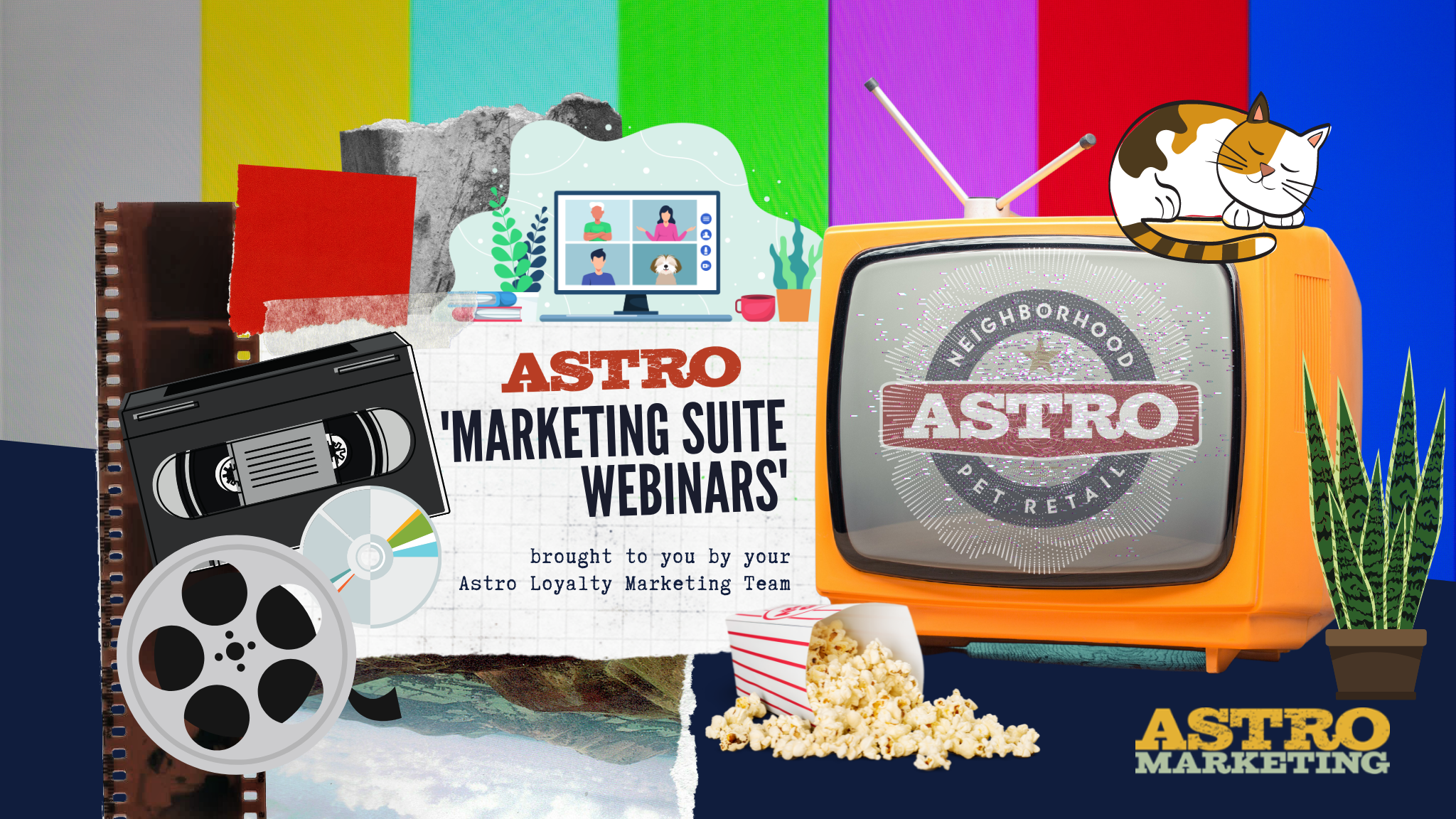 Every month we launch a new series of
Marketing Webinars
for our customers. Some of the topics come from our own noggins, others are requested by our retailers. If you would like to request a webinar topic you may do so during one of our webinars – since they are live – or you can shoot us a quick message via
support@astroloyalty.com
. When you register for a webinar you gain access to both the live event and the recording, which you can stream at any time. If you missed registering for a webinar, check our new
YouTube Channel
for the upload.
Marketing Suite Webinar Topics for December
Thursday, December 9th, 3:00 PM EST
Template Tips: How to Create Your Own Custom Flyer for Facebook
Astro Loyalty automatically generates a Free 
My Astro Webpage Flyer
 that you can share via Astro Campaign, post to your Social Media, Embed on your website, or share as a URL. But this page only shows your Active Offers. What if you wanted to show your customers your upcoming Astro Offers and My Promotions – give them a heads up if you will. This webinar will show you how to create a custom Flyer using Astro Templates. Then we will show you how to share that Template to your Facebook Timeline via Astro Campaigns.
Click here to register
Wednesday, December 29, 3:00 PM EST
Template Tips: How to Create Custom Button Links
Did you know that you can turn any
Single Image Element into a clickable link
? This webinar will show you exactly how to do this and more!
Click here to register
Bonus!
New customizable button images coming to your
Astro Media Library
this month!
New Button Prompts Include
:
Click to Visit Our Online Store
Visit Our Shop 24/7
Shop Local & Online – The Best of Both Worlds Combine!
New Blog Article to Share with your Customers: Pets & The Season of Giving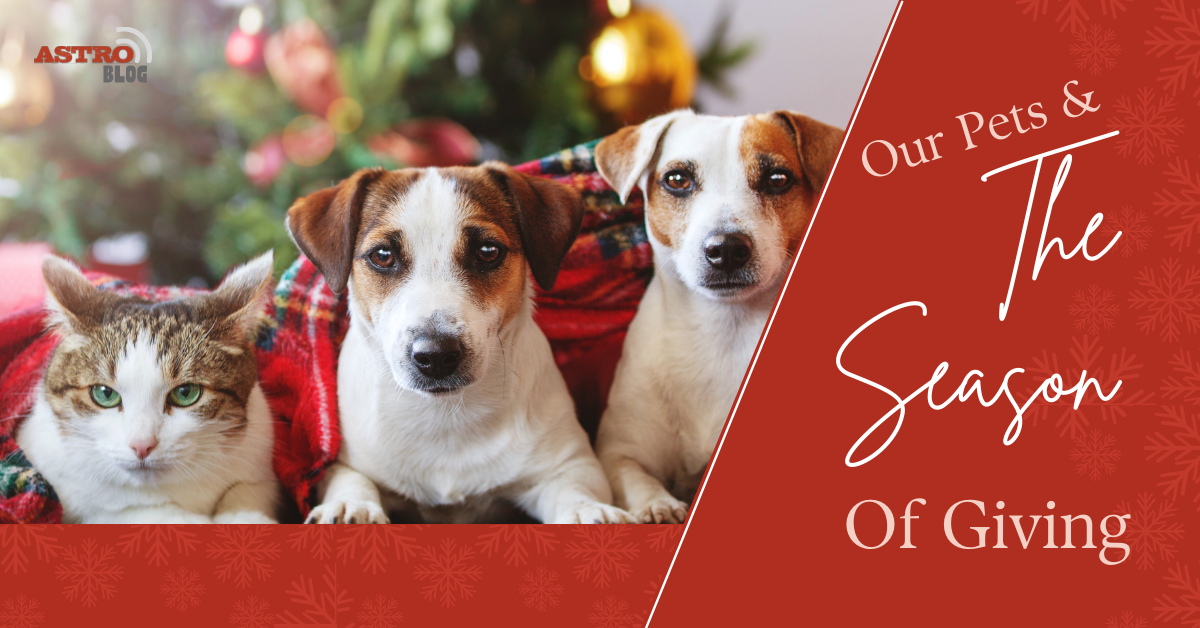 The holiday season is officially upon us. Hanukkah is in full swing, and Christmas is right around the corner. This is a joyous time for most of us一the holidays remind us of all the good things in life: food, family, friends, and, of course, pets! Luckily, the holidays come with cozy celebrations and time off work and school, which presents the perfect opportunity to spend more time with the family's furrier members. Pets bring us so much joy, so it's only fitting to include them in this season of giving and show them our appreciation.
Keep reading to learn about some fun ways to involve your pet in your holiday celebrations and support your local community while doing so.