Growing your pet store requires getting potential customers in the door.
The best way to attract new customers is by running promotions. There's nothing quite like a free trial of products and services to get pet owners' attention, but a genuinely effective promotion is more than just a good deal.
Here are some of our top tips on how to bring your pet store promotions from good to great:
The first step in any effective pet store promotion is to play to your strengths. What makes your independent pet store stand out from the competition? There are a lot of challenges pet stores face when designing marketing campaigns, but one of the major mistakes is scattering your marketing efforts. Don't try to do everything at once, but pick a clear goal and a few avenues to achieve that goal, and stick to it.
Your goal, especially if you are a newly opened independent pet store, should be in line with your specific strengths. If your pet store focuses on forming a community of dog owners, then hosting a dog owner meet-up where you provide free samples of dog care products could be the perfect way to strengthen your customer base.
Do you enjoy sharing pet nutrition tips and answering dietary questions from pet owners? Now, more than ever before, our pets are considered part of the family and thus deserving of the best care and nutrition. Oftentimes, a pet owner needs help arriving at the answer to the question – "What is the best diet for my pet?" This is where your knowledge and personal attention come into play. The simple act of sharing a reel or post that demonstrates your professional understanding of the nuances of nutrition can go a long way in establishing yourself as a valuable resource. Especially when it comes to raw diets and supplements. If that isn't your style, reach out to the sales reps of some of your favorite brands and see if they are available to set up a Nutrition Pop-Up at your pet shop for the local community to attend. 
Another great way to guarantee community engagement is to reach out to your community. Collaborations with local businesses or organizations benefit all involved as you combine your audiences. Reach out to your local pet shelter to see if they'd be interested in setting up a donation day, or contact a local dog association to see if they'd want to hold their next meeting at your store.
Promotional events are at their most successful with a broad audience, and collaboration is the easiest way to expand that audience. With two businesses working together on advertising and organizing, you'll be able to host an event with style.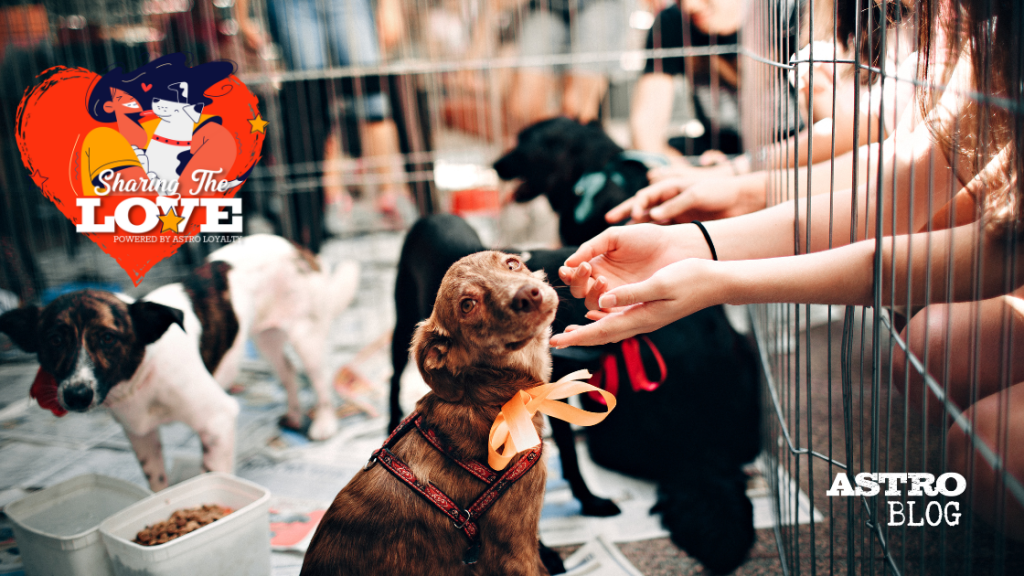 Collaborative events are also great ways to foster relationships down the line. Perhaps you'll want to make an event an annual occurrence, or maybe you've just gained a valuable resource in your community. Pet people want to help pets, and making connections in the pet community means that you'll be able to help your customers all the more. If a customer asks you for advice about their terrier's unusual behavior, having a friend at your local dog association means that you'll be able to direct them to someone who can help.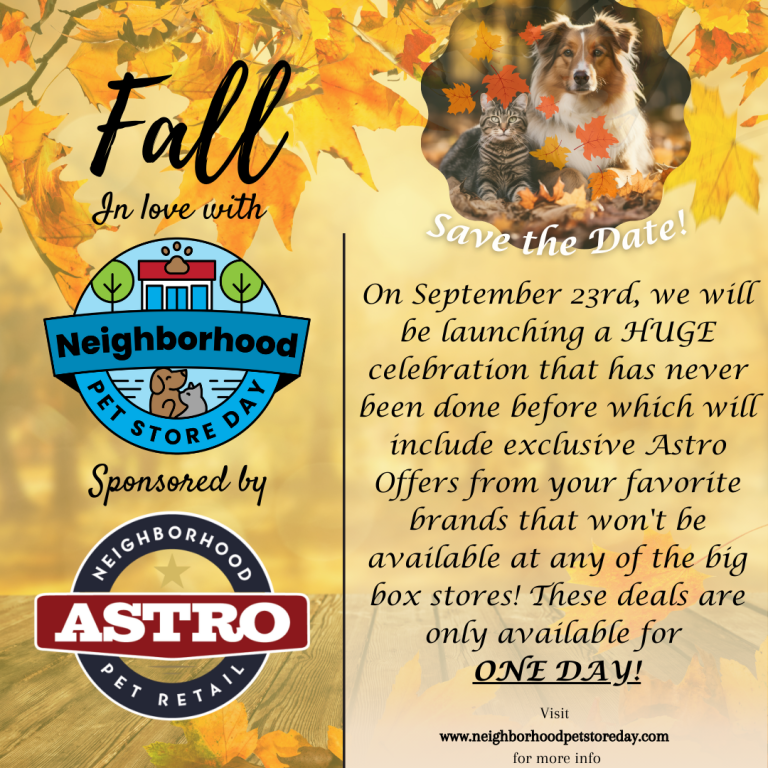 Another great way to maximize your promotions is to use the calendar! Nearly every month of the year has a pet-themed day or two, and those make great opportunities to set up a promotion!
Social media is one of your greatest marketing resources as an independent pet store owner, and events like "Neighborhood Pet Store Day" can gain a lot of traction on social media. Everyone is talking about Neighborhood Pet Store Day, from manufacturers to indie retailers like yourself, and consumers gearing up to support the September 23, 2023, event and treat their pets to a day out on the town. Make sure your neighborhood knows your store is fully embracing this special holiday- which highlights and amplifies the indie pet difference- by broadcasting the Astro Flash Sales offered by your favorite brands to your local community. Celebrate your customers as they celebrate shopping locally with you!
Then as upcoming pet-themed holidays appear on the calendar, let your customers know that your local pet supply business celebrates national pet days just as much as chain stores, and they'll come flocking to shop locally.

Streamline Your Promotion Process
For your promotions to be successful, they need to be easy. They need to be easy for both your customers and your staff in order to have the entire experience of redeeming a deal or a coupon be a positive one that brings customers back.
Astro Offers can make that promotion process easy for everyone. By transforming all paper files and punch cards into a digital point-of-sale system, it removes the risk of losing a coupon or wrinkling a barcode. Accessible by both web browser and app, your staff will be able to redeem offers quickly and efficiently, which leaves your customers happy while reducing stress on your staff.
In addition, partnering with Astro Offers allows you to create value for your customers without taking that value from your pocket. All promotions are paid for by the manufacturers, not you, which means that you get all of the benefits of running promotions with none of the financial cost.
Help Your Business with Astro Loyalty & Pet Biz Gurus
The key to overall success in creating effective promotions for your pet business is using what you have. Do you have connections to local pet organizations? Then make the most of that relationship to expand the audience for you both. If you have particular pet expertise, play to that strength.
Make the most of your time by streamlining your promotions with Astro Offers. Let us help you reduce the fuss of promotions while increasing the value for your customers, and you'll be guaranteed to catch your target audience's attention. Check out our Astro Offers page for more information about how Astro Loyalty can bring your promotions to the next level.
If you've aced Astro Offers and are looking for personalized coaching from an industry professional who has been in your shoes, or inspiration from a group of your peers, look to the ever-growing community of Pet Bosses at Pet Boss Nation to give you the boost you need to get it done! From a private Facebook Group of active pet business owners eager to offer advice and share ideas – to membership in a Pet Boss Club with access to live Q&As, marketing planners, and biz templates to get you started – to intimate group coaching designed to keep you on track and motivated – all the way to personalized one-on-one attention from Candace herself – Pet Boss Nation has something for every level of pet professional. Want a peek into the life of a pet boss? Follow their public Facebook Page and check out their website, blog, podcast, and more!

"You had the courage to build a business and go after your dreams! Just like professional athletes need coaches and high-level strategies from people who've been there or worked with the best, so do you. I've started, scaled and sold three brick and mortar pet businesses and now I mentor thousands of pet professionals on how to see success in business faster together than struggling to play the game alone. Are you ready to team up?"
Whatever it is you need – marketing? coaching? business services? – there is a pet industry professional out there to see you through to the finish line. Take a moment and see what's out there. You'll be surprised! Remember, you're never alone out there.