August is just about here and there's a whole lot going on! We have two new brands on Astro, both launching new Shop Local Frequent Buyer Programs. There are new promotional materials for Sharing the Love. August is chock full of pet-themed holidays centered around nutrition, adoption, and our pets. We have several new blog articles. One for our retailers to help pump you guys up! The others are for you to share with your customers to educate them about the benefits of a raw diet.
This Edition Includes:
Top 5 Ways to Beat Big-Box Pet Stores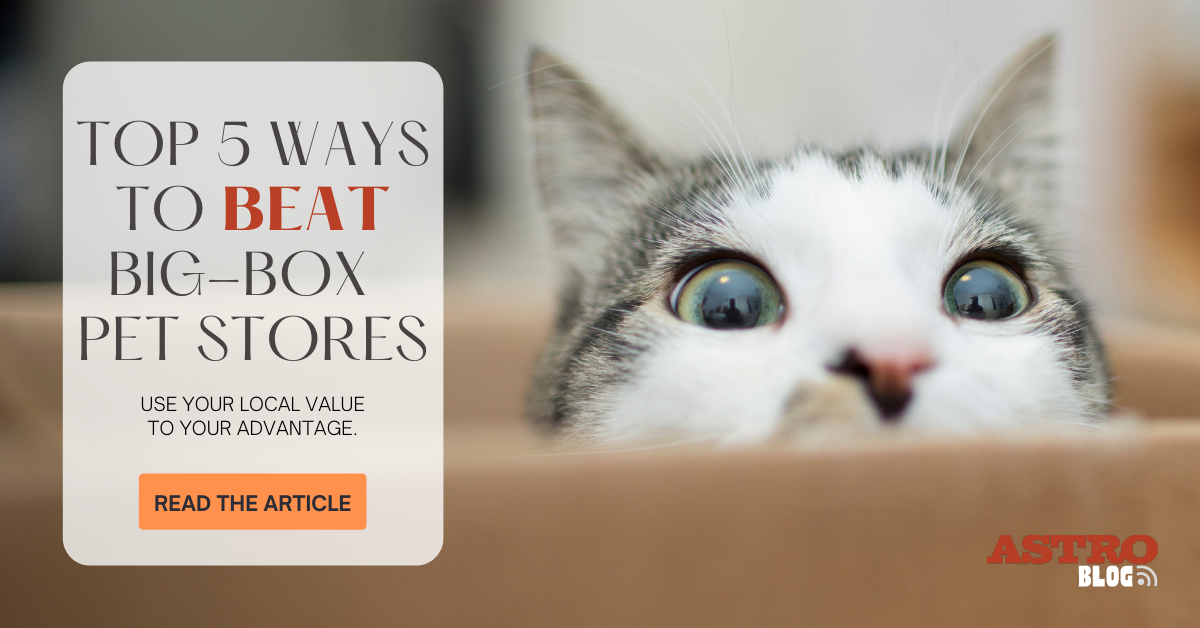 Many of us make decisions based on convenience. What's the easiest way of doing something, how can it get done quickly, and how little will I have to think about it? It can be difficult for people to make choices that require a bit more effort from them, so it has to be worth it—the pros have to outweigh the "con" of choosing a slightly less convenient path. The same can be said in the battle against huge online retailers and big-box stores. There's no argument that they are convenient, but there are some things they just can't do as well as independent local pet stores like you. So, how do you deliver your value in a package that's worth opening? What is your advantage as a local pet retailer and how do you leverage it? Keep reading to find out.
Click Here for the Full Article
---
August Pet Holiday Guide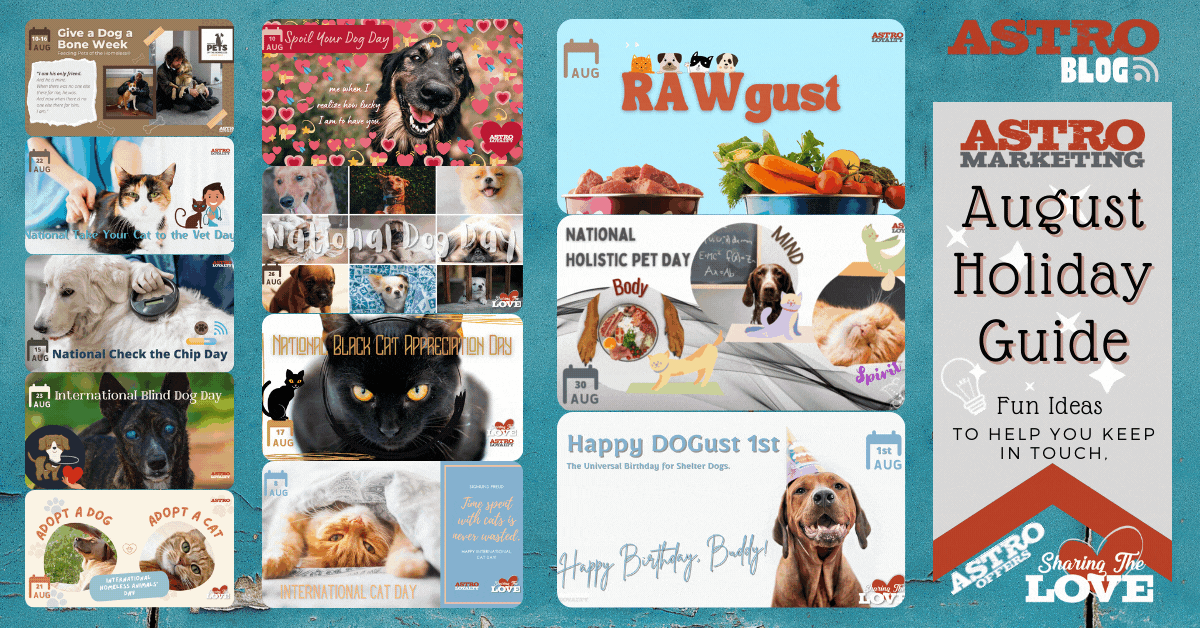 August is bursting with pet-themed holidays! Pet holidays provide us with fun opportunities to engage with pet owners. August has holidays that offer opportunities to talk about nutrition, adoption, Offers/Promotions, and spread awareness.
Astro's Holiday Guides include:
Background, links, and fun facts about each holiday
Astro Offer Pairings or Sharing the Love Matchmakers depending on the holiday
Introduce the content we added to our Astro Marketing Suite
Associate educational blogs we have put together for you to share with your customers
Ideas for in-house My Promotions
Suggest Social Media Fun posts to prompt engagement and more!
Whether you are subscribed to our
Marketing Suite
or not, this guide was designed to inspire fun campaigns and discussions between you and your customers. Enjoy!
Check out the full August Holiday Guide Here

---
New Sharing the Love Materials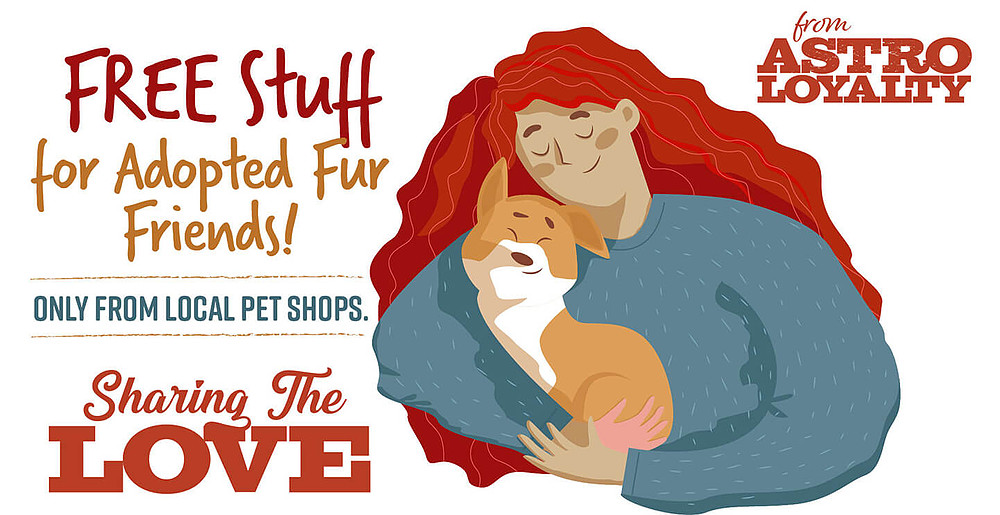 We've been hard at work putting together new tools to help you share the love in your communities. The
Sharing the Love
movement is exceptionally lucky to have so many neighborhood pet shops participating! Many of you have created your own materials and handouts to share with the rescues and shelters in your communities. Others have even gone and made materials to help pet owners collect everything they need for their new pet.
New Dog/Puppy & Cat/Kitten Checklist for New Pet Parents
Your Astro Marketing Team has put together a free Canva 
template for a New Dog/Puppy Checklist and a New Cat/Kitten Checklist
. You can customize this template with your store's Adoption Programs. The front of the checklist will help your customer remember to grab all the necessities while they are in your store on
Welcome Home Day
, while the other side will help them build their bundle. We recommend walking around the store with them and help them find the items on their checklist – especially while they are building their bundle. This will give you the opportunity to answer their questions while getting to know them and their new pet. The idea for this checklist was inspired by
Firehouse Pet Shop
in Wenatchee, WA, who have been sharing tons of love in their neighborhood thanks to their creative spirit and friendships with local rescues.
How to Generate a Recipient List for your Happy DOGust 1st Birthday Campaign!
DOGust 1st is right around the corner! DOGust 1st is the universally recognized birthday of Shelter Dogs – or rescue dogs whose biological birthdate is unknown. This holiday gives these dogs a birthday that they can celebrate together. Your Astro Marketing Team has put together a special Template in our Marketing Suite to help you wish your
Sharing the Love
recipients a very special DOGust 1st. This
Knowledge Base Article
will demonstrate how to use Recipient Lists to generate your own list of Sharing the Love Dogs.
---
RAWgust Themed Educational Blog Articles to Share
RAWgust is a huge holiday for natural and holistic pet shops. The entire month of August provides you with a platform on which to educate your customers on the benefits of incorporating raw foods into their pet's diet. To help you in your mission we put together two blog articles which you are welcome to share with your customers as conversation starters. The first article covers some of the key benefits of a raw diet for dogs and cats. The second article shares the personal stories of two pets who went on a raw diet and the impact it had on their health.

Top Benefits of a Raw Diet for Dogs & Cats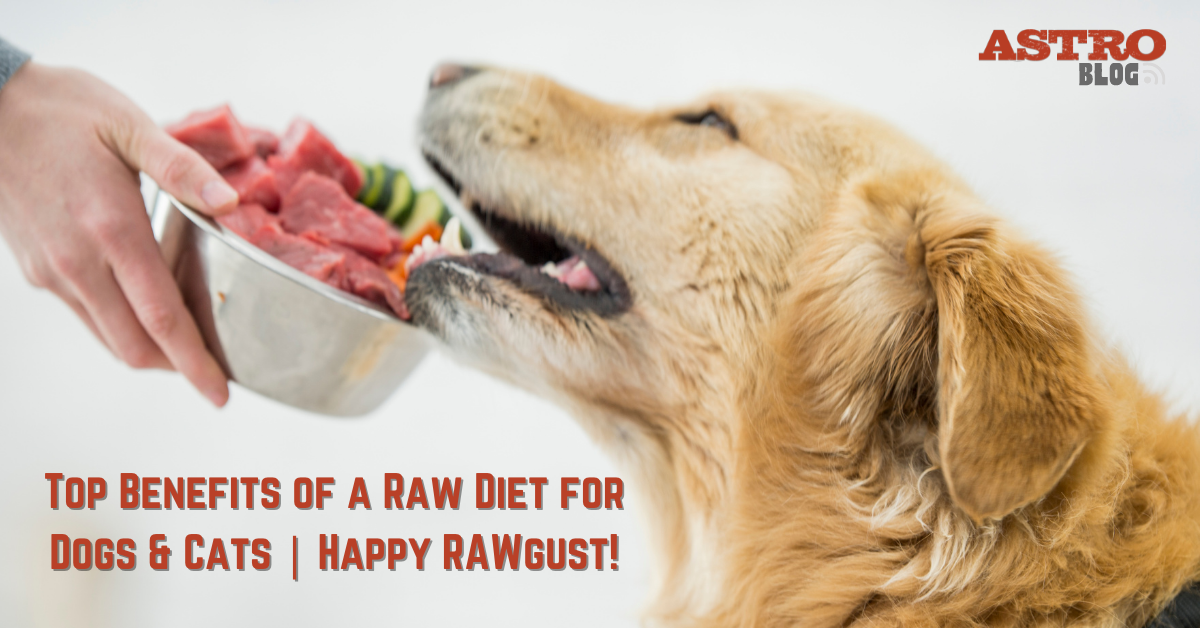 As we learn more about how proper nutrition can benefit us as humans, the topic of our pets' diets gains more attention as well. August has become know as RAWgust in the natural holistic health community. It originated as a holiday to encourage people to consume more raw foods themselves, and then it started gaining traction with the advocates of a raw diet for our pets. This month is all about the benefits of a raw diet and the best way to safely transition your pets to this kind of feeding method!
Click Here for the Full Article
A Raw Diet Miracle | Huxley & Alice's Story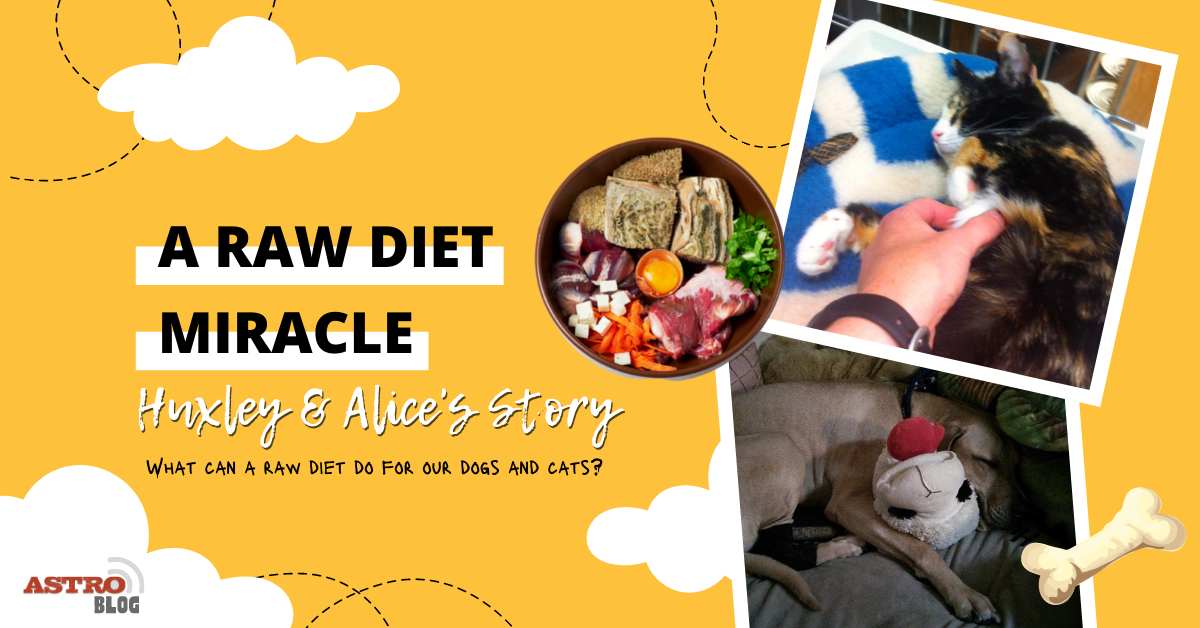 "
Let food be thy medicine, and let medicine be thy food.
" In 400BC, Hippocrates landed on a notion that continues to ring true to this day. The sentiment was simple. Regardless of species, what a body consumes has a significant impact on the holistic health of that being. Food can either be a source of health and power or a contributor to chronic inflammation and illness. So what can a biologically appropriate diet of raw meat, organ, bone, and veg do for our beloved dogs and cats? The results I have witnessed are nothing short of miraculous.
Click Here for the Full Article
---
Aimé Kitchen joins Astro Loyalty and launches a NEW Frequent Buyer Program in Canada!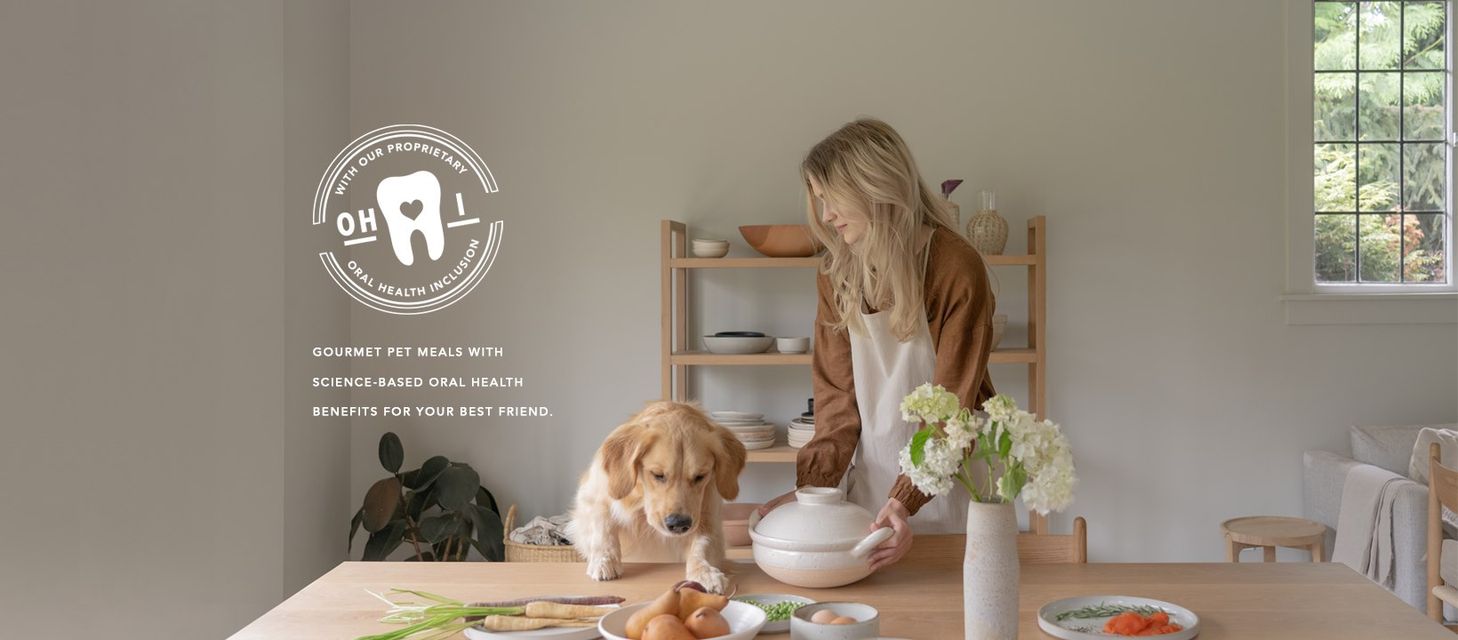 Astro is stoked to have
Aimé Kitchen™
on board!
The founders of Aimé Kitchen™ are no strangers to the pet industry. Their first venture in this field dates back to 1999, when they uncovered a deep-seated passion for making products to enrich the lives of cats and dogs. For the ensuing two decades, they have dedicated themselves to provide only the best for pets and their families and now, specifically, a formula that tackles the root causes of one of the largest health issues facing pets – oral health!
Introducing Aimé Kitchen™ Oral Health Formula for pets — crafted with human-grade ingredients, ethically sourced proteins and exclusive PHD formulas to promote your best friend's optimal oral health.
Aimé Kitchen™ recipes are prepared with the devoted care found in home-cooking mixed with the science of animal nutrition. Working with our in-house PHD animal nutritionist to deliver a science-based oral health solution, our recipes use farm-fresh botanicals and wild-caught proteins that are closest to our pet's natural diet.
Aimé Kitchen™ has a fantastic blog
on their website. They have several articles that focus on the importance of oral health in our dogs and cats, as well as articles on nutrition. Whether Aimé Kitchen™ is new to your store or not, these articles provide valuable educational content and a means to properly introduce their products to your customers. Aimé Kitchen™ supports shopping local! Check out their
Store Locator
and make sure you're on it.
---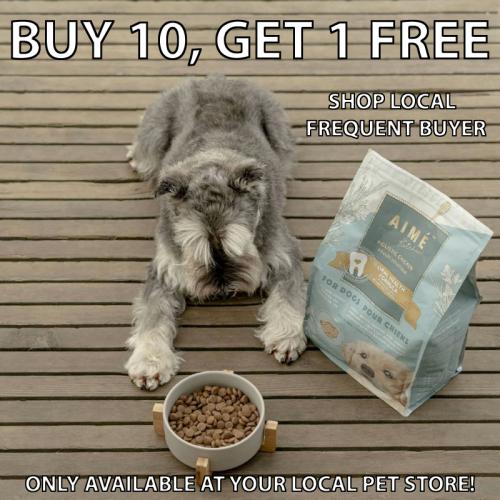 Aimé Kitchen | Official Frequent Buyer – Buy 10 Get 1 Free
Aime Kitchen Frequent Buyer Program Buy 10 Get 1 Free. The program includes Dry Dog Food and Dry and Canned Cat Food. Items are categorized according to type; the free item will be lesser than or equal to the least valued item previously purchased. Customers have 24 months to complete their cards and must fulfill the entire promotion at a single store or chain.

Available in Canada.
---
To enroll, go to your
Frequent Buyer
menu and select
Available Astro Frequent Buyer
and locate the program. Click on the blue title, then click the button to enroll.
---
Honest Paws joins Astro Loyalty and launches a NEW Frequent Buyer Program in the USA!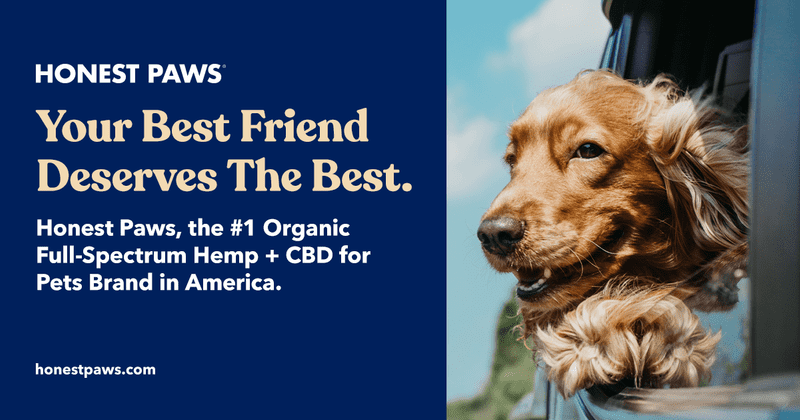 We are thrilled to have
Honest Paws
as a part of the Astro Family of Shop Local Brands. Honest Paws was born out of the love of the founder for her dog, Baby Rose.
My name is Chelsea and a few years back Baby Rose was struggling from a debilitating condition. After giving Baby Rose human-grade CBD oil for a month straight, her condition disappeared. Not to mention, her mobility improved as well. I was in shock. But I also saw an opportunity – to bring premium CBD products to pet parents just like me. People who consider their pets family. People who will go the extra mile to make sure their pet is happy and healthy. People who truly love their pets. Enter Honest Paws.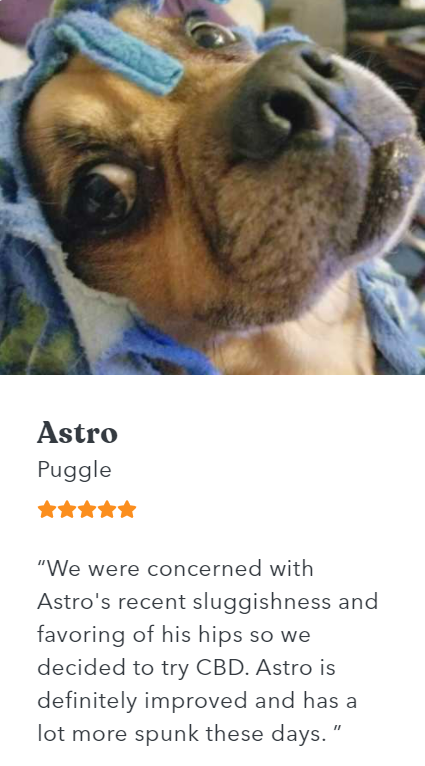 Honest Paws has a great Blog
that includes educational articles about the benefits of CBD for our pets, as well as an assortment of nutrition and health articles. Educational articles such as these are a great way to introduce a new brand and its products to your customers. A sub-section of their blog called "Happy Tails" even includes
customer testimonials
documenting their own personal experiences with CBD. They also include a
Store Locator
on their website to help pet parents find local shops like yours. Are you on it? Their homepage also includes a bunch of fun "Petimonials", like this one from Astro the Puggle! He definitely appears to be full of spunk! Just look at that sweet face.
---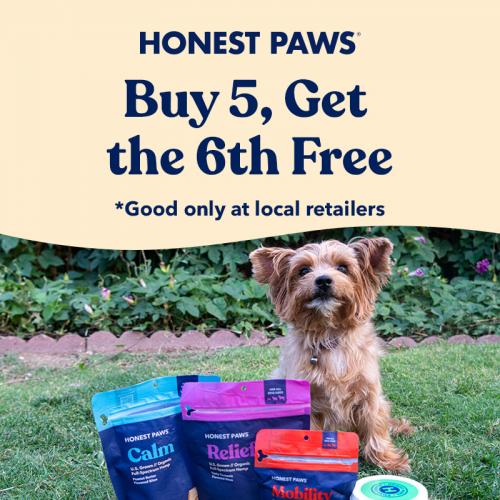 Honest Paws | OFFICIAL Frequent Buyer Program – Buy 5 Get 1 FREE
Buy 5 Get 1 Free on all Oil, Bites, Soft Chews, Peanut Butter Jars, and Balms. Peanut Butter Sachets excluded. The Free Good will be lesser than or equal to in value to the least expensive item bought.

Available in the USA.
---
To enroll, go to your
Frequent Buyer
menu and select
Available Astro Frequent Buyer
and locate the program. Click on the blue title, then click the button to enroll.
---
Latest Superzoo News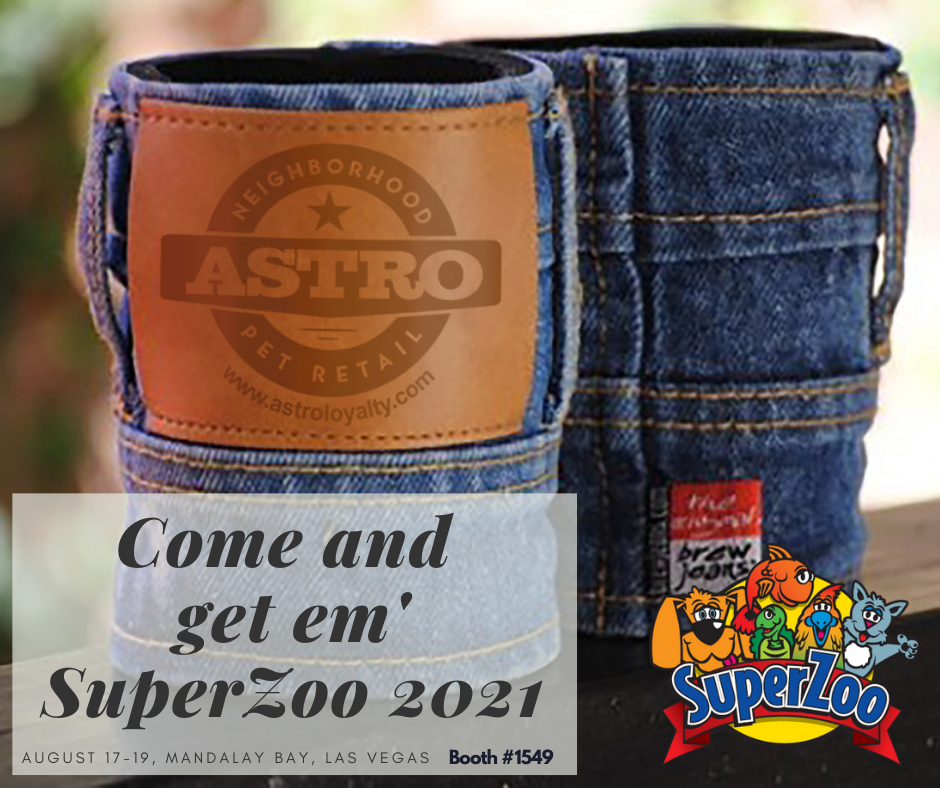 Our 2021 Swag has arrived and will be waiting for you in Booth #1549. Our famous
Astro Trucker Hats (v3)
and
Astro Brew Jeans Koozies (v2)
are back and better than ever! We have new designs this year so you can add them to your collection or start a new collection. Our koozies will be doing what they do best, keeping an Atlanta microbrew cold for you. So stop by, stuff a koozie, have a chat, and grab a hat. We hope to see you there!